August 5, 2017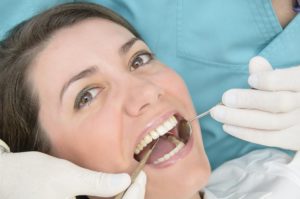 Dental crowns are advanced restorations that allow dentists to save teeth that may otherwise need to be extracted. However, traditional dental crowns required patients schedule at least two appointment, and the process could take weeks or months to complete. In some dental offices, you can get the same, high quality restorations in just one appointment using the CEREC system.
What is CEREC?
CEREC literally stands for chairside economical restoration of esthetic ceramics, but it's really much simpler than that. CEREC is a state-of-the-art restoration system that allows dentists to complete the entire dental crown preparation, creation, and placement process in one appointment. There's no need to wait for a dental lab to craft the crown or schedule multiple appointments.

Are CEREC Crowns as Strong as Traditional Crowns?
Dental crowns are available in a variety of materials. High quality ceramics, like those used as part of the CEREC system, are not as durable as the metal and porcelain fused to metal varieties available from dental labs. For this reason, patients who need a crown placed on the larger back teeth (molars) that absorb a greater amount of pressure during chewing may want to use a gold or metal fused to porcelain material rather than all-ceramic. However, innovations in manufacture of dental grade ceramics continue, and the quality and longevity of these tooth-colored restorations is very close to what's possible with metal crowns.
What Technology is Involved?
CEREC is a fully digital system. Digital x-rays and bite impressions are immediately visible on a chairside computer monitor. We use the unique CEREC design software to plan a perfect, custom restoration. This design is immediately transferred to an in-office milling unit where a block of quality ceramic is crafted into a dental restoration. Once the crown is produced, we can place the restoration immediately. There's no need to place and remove a temporary or wait for the custom restoration to be completed in a dental lab that might be a thousand miles away. CEREC puts the entire dental restoration process in your dentist's hands. That means we can craft a crown that can be minutely adjusted to ensure a perfect fit.
Meet Dr. Crowley
At Bluff Creek Dental, our team is passionate about helping patients better understand their treatment options and how to care for their smiles. Check back in with our monthly blog to hear more about CEREC and other dental services we offer. Call Dr. Patrick Crowley and his Oklahoma City dental team to find out more or schedule an appointment. We look forward to seeing you.
No Comments »
No comments yet.
RSS feed for comments on this post.
Leave a comment