DigiDoc Intraoral Camera – Edmond, OK
See Your Smile from the Dentist's Perspective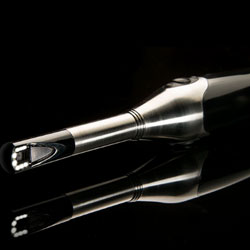 It's no secret that technology has advanced quickly in the past few decades, but when you think about technological innovation, a trip to the dentist is probably not the first thing that comes to mind. While we've been making changes to the way we care for your smile, you may not have noticed them right away. However, if we could choose one dental technology that has completely changed the field, it may be something as simple as intraoral photography. What makes this technology so important? It has significantly improved the patient experience in the dental office, allowing us to show patients just what we're talking about and help them better understand oral health concerns and treatment plans. The Bluff Creek Dental team has been using intraoral photography for years now, but we've recently invested in an all new, state-of-the-art system. The DigiDoc intraoral camera system allows us to take clear, more detailed photos of your smile. This improves our diagnosis and treatment planning process immeasurably, and we think you'll notice a real difference in your dental appointment experience. If you have questions about any of our modern dental technologies, don't hesitate to call our Edmond, OK dentist and team. We'll do our best to answer your questions over the phone or schedule an appointment with us at Bluff Creek Family Dental.
What is DigiDoc?
Similar to other intraoral camera systems, DigiDoc produces flawless, high definition photos of the full smile, individual teeth, and other oral structures. Using a small, hand held tool with eight point LED lighting, we're able to capture crystal clear images of patients' smiles. DigiDoc unlike traditional intraoral cameras actual extends our diagnostic capabilities in addition to creating flawless high definition images. The unique LUM specialized LED light actually shines light through the porous enamel layer of the tooth creating an x-ray like image without any radiation exposure. While x-rays are still important, the images produced by DigiDoc can help us better plan for treatment and make diagnosis in earlier stages. Both the traditional images and LUM captured diagnostic photos make it easier for our Edmond team to make accurate diagnosis, clearly explain your oral health concerns, and partner with you to find the best treatment options
What are the Benefits of DigiDoc Intraoral Photography?
The main benefit of DigiDoc is the fact that it improves your experience in our dental office near Piedmont. When you can see a clear image of your smile, you don't have to rely on us to accurately describe what we're seeing in a way that makes sense to you or look at your smile through a series of mirrors. Instead, you're looking at exactly what we are, and you have a clear understanding of how we can correct damage. This makes you a true partner in your dental treatment planning. Other benefits of the DigiDoc intraoral photography system compared to traditional smile image systems include:
Crystal clear photos
Early diagnosis for tooth decay and dental damage
More precise treatment planning
How is DigiDoc Used?
DigiDoc will mainly be used as part of your biannual dental checkups. We'll capture traditional photos and the x-ray like images to show you the damaged areas of your smile. We can also capture before and after images to show you the progress we make during restorative or cosmetic dentistry and orthodontic treatments.