Dental Implant Supported Tooth Replacement in Northwest Oklahoma City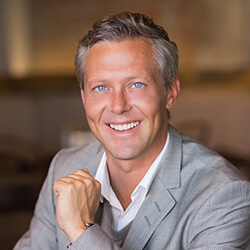 No matter the cause of tooth loss, prompt replacement is crucial to maintain oral health and prevent the loss of more teeth later on. Dental implants provide a comprehensive replacement, giving you back the visible crown as well as its supporting root structure. Dental implants closely mimic your natural tooth, allowing you to chew, speak, and smile without the worry of missing teeth or an ill-fitting replacement. Whether you need a single tooth implant or a full set of implants, Bluff Creek Dental can help guide you through your treatment. Dr. Crowley provides full-service dental implant care for Oklahoma City and surrounding areas. Contact us to schedule your consultation today!
Implant Placement
Dental implants are completed in two phases: placement and restoration. While many dental offices rely on referrals to complete the initial implantation, Dr. Crowley is highly trained and experienced in the placement of dental implants. That means you'll likely never have to leave the comfort of Bluff Creek Dental throughout your dental implant treatment.
To place your dental implants, Dr. Crowley examines the extent of your tooth loss and puts together your treatment plan. With the help of local anesthesia and sedation as needed, you will relax throughout the dental implant procedure in our state-of-the-art office. Each implant is strategically placed, the gum is closed, and the recovery period begins. Over a span of several months, the jawbone grows around the dental implant, providing superior stability for your smile. Once the process is complete, you return to our office for the final restoration of your dental implant(s). Learn more about the about the differences that patient's and doctor's face when dealing with single tooth implants in comparison to implants for multiple teeth.
Dental Implant Questions and Answers
Implant Retained Crowns & Bridges
Crowns and bridges retained by dental implants provide a sturdy, long-lasting replacement option when some healthy teeth remain in the gum line. A single crown can replace just one missing tooth, and implant-retained bridges fill the gap left by multiple teeth. With the support provided by the dental implant(s), your jawbone stays healthy and whole for a lifetime to come — and the natural teeth surrounding the gap are kept in place, right where they should be.
Implant Retained Dentures
There's nothing worse than an ill-fitting denture. A loose prosthetic device inhibits your ability to chew and speak, and it may also rub the sores or blisters that are associated with oral cancer. Dental implant-retained dentures prevent these issues by securing the denture in place and preventing the deterioration of the jawbone that causes dentures to lose their fit. For eligible patients, there is no better solution to complete tooth loss than an implant-retained denture.