Dental Implants – Northwest OKC
The Value of a Lifelong Tooth Replacement
No matter the cause of tooth loss, prompt replacement is crucial to maintain oral health and prevent the loss of more teeth later on. Dental implants provide a comprehensive replacement, giving you back the visible crown as well as its supporting root structure. Dental implants closely mimic your natural tooth, allowing you to chew, speak, and smile without the worry of missing teeth or an ill-fitting replacement. Whether you need a single tooth implant or a full set of implants, Bluff Creek Dental can help guide you through your treatment. Dr. Crowley provides full-service dental implant care for Northwest OKC and surrounding areas. Contact us to schedule your consultation today!
Benefits of Dental Implants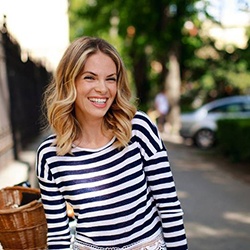 In addition to completing your smile, dental implants offer a number of other benefits. These include:
Longevity. With proper oral hygiene care and regular dental checkups, dental implants can last a lifetime.
Complete tooth replacement. Unlike a bridge or denture that only replaces the visible portion of a tooth, implants stand in for the root and crown.
A high rate of success. Dental implants enjoy a nearly 98 percent success rate.
Form and Function. Implants don't only look completely natural, they also perform more like natural teeth.
Independent tooth replacement. Dental implants stand alone in your mouth and do not require alteration to nearby teeth.
Learn More About the Benefits of Dental Implants
What are Dental Implants?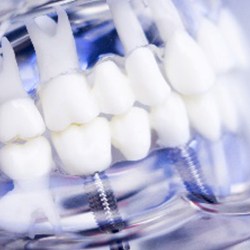 Dental implants are different than any other type of prosthetic tooth because they use implant posts, which are surgically placed into the jawbone. When a single tooth is lost, a dental implant post, an abutment, and a dental crown are used. If several teeth are missing in row, a dental bridge is created, which is held in place using one or two implant posts. An entire arch can also be replaced. With implant retained dentures, the base it attached using an average of 4 implant posts.
Indications for Dental Implants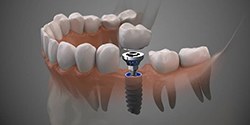 Most people qualify to have dental implants. If you enjoy good general health and you will stick to a strict oral hygiene routine, then dental implants could be right for you whether you are missing one or more teeth.
Missing Single Tooth
If you are missing a single tooth, then Dr. Crowley will place one implant to support an implant-retained crown. The implant will be positioned to take advantage of the most bone density at the site.
Learn More About Single Tooth Implants
Missing Multiple Teeth
For several missing teeth, two dental implants can support a bridge consisting of crowns that attach to the implants and false teeth that fill the gap in your smile.
Learn More About Dental Implant Crowns and Bridges
Missing All Teeth
If you are missing all of your teeth along one arch, then implant-retained dentures, All-On-4 or Teeth in a Day could be the perfect solution. You and Dr. Crowley will decide with option is best for your particular set of circumstances, your lifestyle and your budget.
Learn More About Implant-Retained Dentures
Implant Placement
Dental implants are completed in two phases: placement and restoration. While many dental offices rely on referrals to complete the initial implantation, Dr. Crowley is highly trained and experienced in the placement of dental implants. That means you'll likely never have to leave the comfort of Bluff Creek Dental throughout your dental implant treatment.
To place your dental implants, Dr. Crowley examines the extent of your tooth loss and puts together your treatment plan. With the help of local anesthesia and sedation as needed, you will relax throughout the dental implant procedure in our state-of-the-art office. Each implant is strategically placed, the gum is closed, and the recovery period begins. Over a span of several months, the jawbone grows around the dental implant, providing superior stability for your smile. Once the process is complete, you return to our office for the final restoration of your dental implant(s). Learn more about the about the differences that patient's and doctor's face when dealing with single tooth implants in comparison to implants for multiple teeth.
Learn More About Dental Implant Placement
Implant Dentures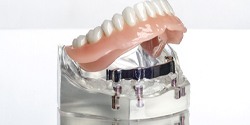 If you're missing all your teeth, you're probably thinking traditional dentures are the only way to get your smile back. The good news is that there's another option that provides more durability, permanency, and lasts longer. What is it? Implant-retained dentures! Discover how this truly unique treatment can restore your smile and your confidence.
Learn More About Implant-Retained Dentures
Dental Implants - Questions and Answers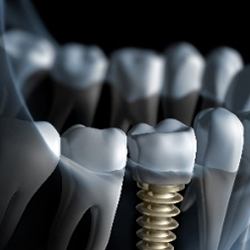 When you lose a tooth, your quality of life and oral health significantly decline due to the empty space. Now, you have many excellent options available to replace it, but which is best? You may have heard about the benefits of dental implant placement in Piedmont, but are they right for you? At Bluff Creek Dental, we understand that you have plenty of questions about the procedure. To help you make a wise decision, we have the answers you need.
How Much Do Dental Implants Cost?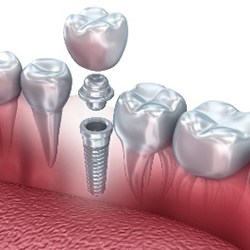 There is no set price tag for dental implants because their cost is based on your individual treatment plan. Factors that will influence the cost may include how many teeth need to be replaced, additional procedures, or your dental insurance. During your initial consultation, we will provide you with an estimate for your procedure. We also have a $3,000 implant special to help you stay within your budget.
How Long Do Dental Implants Last?
Dental implants have over a 95% 10-year success rate. With the right aftercare, like maintaining your oral hygiene and regular care from your dentist, they have the potential to last for a lifetime. You will need to have the crown replaced about every 10 years because it will experience wear and tear.
Can You Be Too Old for Dental Implants?
You are never too old for dental implants; however, your candidacy depends on your oral and general health, as well as your jawbone's density.
How Long Does the Process Take?
Completing your smile with dental implants will take several months. After the implant placement, your jawbone will need time to heal to fuse to it, which can take several weeks. After adequate healing has occurred, the abutment and dental crown will be attached.
How Do I Care for Dental Implants?
Caring for your new smile is similar to caring for your natural teeth. Brush twice a day and floss each night while paying careful attention to clean around the implant posts. In addition, do not forget to see your dentist twice a year for a cleaning and checkup.
Does Smoking Cause Implant Failure?
Smoking or tobacco use in any form increases your risk for implant failure because it lowers your body's ability to heal and fight infection. With infection the biggest threat for implant failure, it is best to avoid tobacco.
What are the Benefits of Dental Implants?
Dental implants are the only tooth replacement option to preserve your jawbone's density by stimulating new bone growth using the implant post. This also allows the jawbone to fuse to the post, creating a secure foundation for the replacement tooth. As a result, it will closely look and feel like a natural tooth while allowing you to make a long-term investment in your smile.
Complete Your Smile Today!
If you are looking for implant dentistry serving Cashion, you have come to the right place. Contact our office today to schedule your consultation for a complete smile.