Restorative Dentistry - Edmond, OK
Repair Damaged, Cracked or Injured Teeth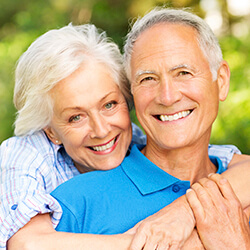 Despite our best efforts to prevent cavities and other oral health concerns, your smile remains vulnerable to a host of oral health hazards. If decay, damage, or injury get in the way of your healthy teeth and gums, let Dr. Patrick Crowley and the team at Bluff Creek Dental come to the rescue with superior services in restorative dentistry from our Edmond, OK dentist. Our advanced technology and experienced approach make care getting the care you need comfortable and efficient.
One-Visit Dental Restorations
One-visit dentistry is possible at Bluff Creek Dental in Edmond thanks to CEREC, or Chairside Economical Restoration of Esthetic Ceramic. With this technology, Dr. Crowley can plan, manufacture, and place an all-ceramic dental crown, bridge, inlay/onlay in just about 90 minutes.
First, Dr. Crowley removes all decay from the affected tooth. Digital impressions are captured and transferred to the CEREC software, which your doctor uses to create the blueprint for the new restoration. Once your crown, bridge, inlay/onlay has been digitally rendered, the plan is sent to our in-house milling machine, which creates the restoration from a single block of dental porcelain.
Some of the most significant benefits of one-visit dentistry include…
Save time and sick leave by having your dental work completed in one visit.
All-ceramic restorations blend beautifully with the rest of the smile.
Digital impressions are completed quickly and painlessly.
In short? CEREC produces long-lasting, beautiful restorations, faster (and better!) than ever.
Dental Crowns & Bridges
For repairing severely damaged teeth, or when dental implants are not the best treatment option for tooth replacement, Dr. Crowley may recommend a traditional crown or bridge for dental patients in Piedmont. Dental crowns are bonded securely over a damaged tooth to restore its size, shape, and strength. Three or more dental crowns bonded together can also replace one or more missing teeth as part of a dental bridge. The two teeth surrounding the gap are used as anchors for the prosthetic crowns that fill in the space between. In this way, they form a literal bridge over the gap, preventing the natural teeth from drifting out of place and renewing your ability to eat and speak properly.
Crowns and bridges can last for many years with proper care. Brush and floss regularly, concentrating on the area at the base of the crown or bridge to prevent plaque and bacteria buildup. To avoid damaging your crown or bridge, do not yank floss through the crown — pull it back and forth, instead.
Learn More About Dental Crowns
Learn More About Dental Bridges
Dentures
Tooth loss can take a serious toll on your quality of life, making smiling, chewing, and communicating a chore. Fortunately, dentures can turn all that around! With custom-made prosthetic teeth and a gum-colored base, partial and full dentures can seamlessly restore the look and function of your smile. Plus, implant-supported options combine this tried-and-true solution with state-of-the-art technology for maximum durability and comfort. In short, if you've been struggling with the negative effects of tooth loss, dentures may just be the solution you've been looking for.
Tooth-Colored Fillings
Silver, or amalgam fillings were for many decades the standard treatment option for repairing mild to moderate tooth decay. But today, there is a better option available: tooth-colored fillings. They are made from biocompatible composite resin, a mixture of smooth glass and plastic particles that is highly customizable to match the shade of the surrounding tooth enamel.
The benefits of tooth-colored fillings are many. Advantages include…
A precise color-matching guide ensures a seamless result.
Less healthy tooth structure is removed prior to a tooth-colored filling.
Composite resin bonds to the tooth to restore much of its strength.
Less sensitivity to heat and cold reduces expansion and contraction of the filling, protecting the surrounding tooth enamel.
Tooth-colored fillings harden within seconds under a special curing light.
For their beautiful, long-lasting results, tooth-colored fillings are now the preferred treatment option. Dr. Crowley fills new cavities and replaces old gray metal work with natural-looking composite resin.
Root Canals
Root canal therapy, also known as endodontic treatment, is often the last option for saving a tooth from extraction. It is the recommended treatment when infection reaches the interior of the tooth, or the pulp — the area frequently referred to as the "nerve" of the tooth. Infection here is often very painful. Don't ignore the need for a root canal; quick treatment is necessary to prevent the spread of infection.
To perform a root canal, Dr. Crowley removes all infected tissue from inside the tooth, then seals it off and restores strength with a permanent filling or crown. Root canals are often completed in one visit, however some require two visits if the infection is more severe.
Root canals are thought of as being incredibly painful, but with local anesthesia and sedation as needed, there is truly nothing to fear from modern root canal therapy at Bluff Creek Dental.
Tooth Extractions
While our number one goal is to save your natural teeth whenever possible, extraction is sometimes the best method of action to protect your oral and overall health. The wisdom teeth, or the third molars that may erupt in late adolescence, often require removal. If you or a loved one have a tooth in need of extraction, contact the team at Bluff Creek Dental right away. Dr. Crowley provides comfortable, efficient teeth extractions.