Cosmetic Dentist - Northwest OKC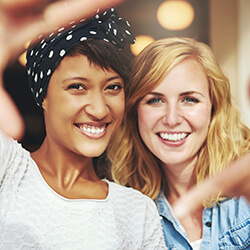 After Dr. Patrick Crowley and our team have helped you achieve and maintain healthy teeth, we look forward to discussing how we can make your smile truly dazzle. We take a personalized approach to cosmetic dentistry to ensure that your smile reflects the real you — confident and vibrant. Adults in Northwest OKC, Edmond, Deer Creek, Yukon, and all surrounding areas are invited to contact us to learn more about what's possible with cosmetic dentistry today!
Metal-Free Restorations
When dental damage or decay affect a tooth in the front of the smile, repairing the aesthetics of the tooth is a particular concern. A nice blend of cosmetic and restorative dentistry, metal-free restorations repair the form and function of the teeth that show when you smile. Dr. Crowley rebuilds beautiful smiles with Composite E-Max restorations at Bluff Creek Dental.
With CEREC technology, it just takes one visit to repair your smile with a metal-free crown, bridge, inlay, or onlay. Using the detailed blueprint Dr. Crowley creates from your treatment plan, our on-site milling machine creates a beautiful all-ceramic restoration in a matter of minutes. Dental ceramic is highly customizable to ensure it perfectly matches the surrounding tooth enamel.
Metal-free restorations are a long-lasting solution to issues affecting the front teeth. Dr. Crowley will continue to check in on the health of your restoration in regularly-scheduled visits to our Northwest OKC dental office.
Direct Bonding
Direct bonding offers a non-invasive treatment option for minor flaws in the teeth that show when you smile. Using tooth-colored composite resin, Dr. Crowley artfully enhances the shape, size, color, and overall appearance of damaged teeth.
Direct bonding may be used to…
Correct chipped or broken teeth
Close small gaps between teeth
Cover up severe stains
Lengthen short or stubby teeth
Enhance the shape of pointed teeth
Smooth uneven surfaces
The process for direct bonding is simple. Dr. Crowley places the tooth-colored composite resin directly to your tooth, then shapes it into its most aesthetic form. Using a high-powered curing light, the direct bonding is cured in seconds.
Because it doesn't require the removal of any healthy tooth structure, direct bonding offers a wonderful alternative to more complex cosmetic procedures. With proper care and solid dental hygiene, direct bonding can last for many years after application.
In-Practice Teeth Whitening
It's normal for your teeth to get darker over time — unfortunately, the common side effect of age can also make you look older than you really are. With the powerful Zoom! Whitening, Dr. Crowley can brighten your teeth by up to eight shades in just one, two hour visit to our office. In-practice teeth whitening is the speediest way to a sparkling smile, and the results can last for years with simple periodic touchups.
Invisalign
Bluff Creek Dental offers a metal-free alternative to traditional braces. Invisalign is an FDA-approved treatment option that uses clear plastic aligners to gradually reposition your teeth using the same orthodontic principles as conventional braces. Dr. Crowley is pleased to provide the convenient, discreet option for adults and teens alike.
To set you up with your Invisalign treatment, we will take digital impressions and photographs of your teeth and put together a treatment plan tailored just for your smile. Invisalign corrects the same issues that are treatable with braces, including gapped teeth, crowded teeth, overbite, underbite, and crossbite.
Once you receive your Invisalign trays, you can begin treatment immediately. Wear each aligner for 20 to 22 hours each day, switching to the next one in the system every 1 - 2 weeks. Remove the trays before eating and to clean your teeth. After about one year, on average, the treatment is complete.