Cosmetic Dentistry – Northwest OKC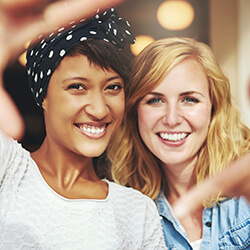 After Dr. Patrick Crowley and our team have helped you achieve and maintain healthy teeth, we look forward to discussing how we can make your smile truly dazzle. As a cosmetic dentist in OKC, Dr. Crowley takes a personalized approach to ensure that your smile reflects the real you — confident and vibrant. Adults in Northwest OKC, Edmond, Deer Creek, Yukon, and all surrounding areas are invited to contact us to learn more about what's possible with cosmetic dentistry today!
Who is Dr. Crowley?
Dr. Patrick Crowley is a cosmetic dentist based in Northwest OKC. A graduate of the University of Oklahoma College of Dentistry, he received his Bachelor of Science degree in Biology from the University of Central Oklahoma. After dental school, he completed the AEGD residency program at Oklahoma University, gaining valuable experience in placing and restoring implants, cosmetic dentistry, and embracing complex cases.
We will help you find the best solution or treatment plan for your needs, as consultations are available. Dr. Crowley is also pleased to offer new patient specials that include:
$500 off Invisalign (without insurance)
$3,000 Implant Special (Implant abutment & crown without insurance)
FREE Implant Consultation
FREE Second Opinions
Metal-Free Restorations
With CEREC technology, it just takes one visit to repair your smile with a metal-free crown, bridge, inlay, or onlay. Using the detailed blueprint Dr. Crowley creates from your treatment plan, our on-site milling machine creates a beautiful all-ceramic restoration in a matter of minutes. Dental ceramic is highly customizable to ensure it perfectly matches the surrounding tooth enamel.
Metal-free restorations are a long-lasting solution to issues affecting the front teeth. Dr. Crowley will continue to check in on the health of your restoration in regularly scheduled visits to our Northwest OKC dental office.
Direct Bonding
Direct bonding offers a non-invasive treatment option for minor flaws in the teeth that show when you smile. Using tooth-colored composite resin, Dr. Crowley artfully enhances the shape, size, color, and overall appearance of damaged teeth.
Direct bonding may be used to…
Correct chipped or broken teeth
Close small gaps between teeth
Cover up severe stains
Lengthen short or stubby teeth
Enhance the shape of pointed teeth
Smooth uneven surfaces
The process for direct bonding is simple. Dr. Crowley places the tooth-colored composite resin directly to your tooth, then shapes it into its most aesthetic form. Using a high-powered curing light, the direct bonding is cured in seconds.
Because it doesn't require the removal of any healthy tooth structure, direct bonding offers a wonderful alternative to more complex cosmetic procedures. With proper care and solid dental hygiene, direct bonding can last for many years after application.
In-Practice Teeth Whitening
With the powerful Zoom! Whitening, Dr. Crowley can brighten your teeth by up to eight shades in just one, two-hour visit to our office. Using a professional-grade whitening gel, we will whiten your teeth in 15-minute increments until desired results are achieved.
In-practice teeth whitening is the speediest way to a sparkling smile, and the results can last for years with simple periodic touchups. But it will also be important for you to remain committed to caring for your newly brightened smile with good oral hygiene habits and avoiding stain-causing foods and beverages.
Invisalign
Bluff Creek Dental offers a metal-free alternative to traditional braces. Invisalign is an FDA-approved treatment option that uses clear plastic aligners to gradually reposition your teeth using the same orthodontic principles as conventional braces. Dr. Crowley is pleased to provide the convenient, discreet option for adults and teens alike.
Once you receive your Invisalign trays, you can begin treatment immediately. Wear each aligner for 20 to 22 hours each day, switching to the next one in the system every 1 - 2 weeks. Remove the trays before eating and to clean your teeth. After about one year, on average, the treatment is complete.