Invisalign® Straighten Smiles Perfectly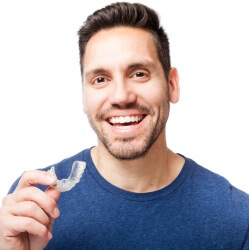 Invisalign has been around since the late 1990s. We're talking about clear braces—the ones that make straightening your teeth with cumbersome metal brackets and wires a thing of the past. If you've been searching for a provider of Invisalign in Northwest OKC, then come see Dr. Crowley. He'll be able to advise you on whether or not this orthodontic treatment is right for your smile.
Is Invisalign Right for Me?
The last thing you want is to go through orthodontic treatment and not end up with the smile you hoped to achieve. Before recommending Invisalign, Dr. Crowley will carefully examine your teeth and your bite in order to make sure Invisalign is right for your smile. While Invisalign is designed to correct a number of malocclusions including an overbite, underbite or crossbite, there are a few conditions for which Invisalign is not suited. These include a tooth that is rotated more than 20 degrees; teeth that are tipped more than 45 degrees, large gaps between teeth and other skeletally based problems.
Straightening Your Smile with Invisalign
Your orthodontic treatment begins with Dr. Crowley's thorough diagnostic consultation that will determine the reason for your crooked teeth and the best course of treatment. Then, using a collection of photographs, x-rays and impressions of your teeth, the dentist in Northwest OKC will create a treatment plan. Invisalign uses this plan combined with high-tech digital technology to design your step-by-step Invisalign care. Technicians in the Invisalign lab produce a virtual representation of how your teeth will move during your orthodontic treatment. Finally, your customized aligners are produced in the Invisalign lab and sent to our office.
Dr. Crowley will dispense your aligners in pairs—one for the teeth along your top arch and one for the bottom arch. All you have to do is wear each pair of clear braces for at least 22 hours a day for two weeks. Then, throw them away and move on to the next pair. Worn consistently, you can expect to complete your orthodontic care with Invisalign in 12 to 24 months.
The Benefits of Invisalign
For patients who are interested in wearing braces but don't want others to know, Invisalign can be the ideal solution. These clear braces are made from BPA-free plastic that is all but invisible to friends, family and co-workers.
Aside from this aesthetic advantage, Invisalign offers benefits that are not possible with traditional braces. For example, Invisalign aligners are removable so you can eat whatever you like and brush and floss your teeth more thoroughly. People wearing metal braces usually must eliminate hard and sticky foods in order to prevent broken brackets or wires. And without anything attached to your teeth, you'll be able to maintain a cleaner and healthier mouth.