Tooth Extractions – Edmond, OK
Comfortable Removal of Troublesome Teeth
The loss of a single tooth, even one that's not visible, can dramatically impact your oral health. That's why removing a tooth is almost never our first choice here at Bluff Creek Dental. In some cases, though, performing a tooth extraction is the best option for preserving your oral health as a whole. Rest assured that when you do need tooth extractions, your dentist in Edmond, Dr. Patrick Crowley, will make sure you're comfortable every step of the way. He'll examine your smile, determine whether an extraction is necessary, and come up with a personalized treatment plan. If a particular tooth has been giving you trouble, contact us today to discuss your options.
When Is Tooth Extraction Necessary?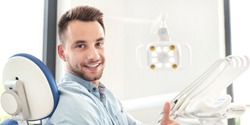 Dr. Crowley will do his utmost to help you retain your natural teeth for as long as possible. In the following situations, though, removing a tooth may be the best choice for your overall oral health and function:
Severe decay or damage has irreparably destroyed a tooth
To make room in the mouth for orthodontic treatment when teeth are overcrowded
To ensure the success of a partial or full denture
When a primary (baby) tooth doesn't fall out on its own
When a tooth is impacted (stuck in the gumline and unable to erupt)
Wisdom teeth, also known as third molars, are often removed due to impaction or crowding
What to Expect During the Tooth Extraction Process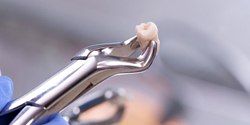 There are generally two ways to remove a tooth: a simple extraction or a surgical extraction in Edmond.
A simple extraction is only possible when the tooth has fully emerged from the gums. First, we numb that area of your mouth. Then, we use a clasping instrument to gently rock the tooth back and forth until it breaks free.
A surgical extraction is necessary when the tooth is impacted. In some cases, this may involve making an incision in the gum tissue to expose more of the tooth. We might also have to break the tooth into smaller sections and remove it piece by piece.
After we closely examine your mouth, we can determine which option is best for you. We'll also make sure your mouth is completely numb before beginning. We can even provide dental sedation to help you relax and get comfortable at our office near Piedmont.
Caring for Your Smile After a Tooth Extraction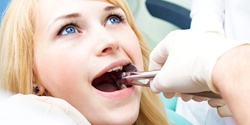 Following your tooth extraction, we'll provide you with aftercare instructions for the next few days, which may look something like this:
Take any prescribed pain medication or antibiotics as directed.
Use cold compresses to minimize pain and swelling.
Avoid hot or spicy foods while healing.
Do NOT smoke or drink through a straw, as that could dislodge the blood clot forming at the extraction site.
Eat only soft foods.
Call us right away if your pain or bleeding increases after the first two days.
Options for Tooth Replacement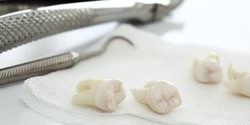 Once you have recovered from your extraction, we can discuss your options for replacing the tooth. Many patients choose a dental bridge, which consists of several dental crowns strung together. This restoration looks natural, but it requires that two healthy teeth be shaved down. Plus, it only replaces the tooth's crown, not the root.
That's why we often recommend dental implants instead. These titanium posts are placed in the jawbone and topped with a personalized crown, bridge, or denture. Not only are they versatile enough to bring back any number of teeth, but they often last exponentially longer than bridges.