Dentures – Edmond, OK
The Tried-and-True Answer to Tooth Loss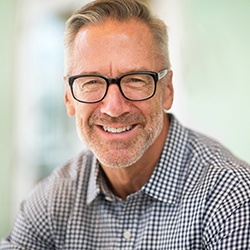 Did you know that more than 120 million Americans are missing teeth? So, if you have gaps in your smile, you're certainly not alone. The good news is that you can leave the adverse effects, like difficulty chewing, in the past thanks to dentures in Edmond! This tried-and-true answer to tooth loss has come a long way over the last few dentures, making them more lifelike and long-lasting than ever before. If you're interested in exploring this popular restorative dentistry solution, get in touch with our team or read on!
Who Is a Good Candidate for Dentures?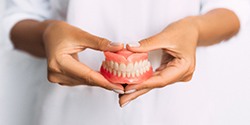 If you're interested in dentures, but are unsure if you are a good candidate, don't fret. Thanks to advancements in dentistry, nearly everyone is. During your initial consultation, our skilled dentist in Edmond, Dr. Crowley, will learn about your lifestyle habits, assess your oral health, and ask you questions about your smile goals. With this information, he will be able to determine if you qualify. Even if you don't initially, a preliminary treatment, like a tooth extraction or gum disease therapy, can help get you there.
Types of Dentures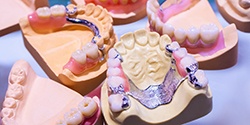 "Dentures" is often used as an all-encompassing term. However, there are actually multiple types! Here's what you need to know about each:
Partial Dentures
Partial dentures (often referred to as just "partials") are – as the name suggests – partial. This type is perfect for patients in Edmond who are suffering from moderate tooth loss but still have a few of their natural teeth intact too. This restoration uses a gum-colored base to anchor the necessary replacement teeth and holds them in place with a discreet metal framework.
Full Dentures
Full dentures, on the other hand, are ideal for patients who are missing all of their teeth. The gum-colored base and custom-made prosthetic teeth are held in place with natural suction, denture adhesive, or a mixture of the too. Not only are they incredibly lifelike in look and feel, but they are easy to clean and can last for years with proper care.
Implant Dentures
Implant dentures in Piedmont are where traditional dentures and state-of-the-art dental implants meet. Instead of using a metal framework or natural suction for support, this type rests on top of strong titanium posts. As a result, your jawbone will be preserved, you won't have to worry about any slippage, and you can enjoy a 20+ year lifespan.
The Benefits of Dentures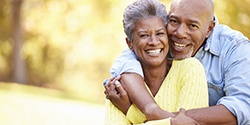 As mentioned above, dentures have advanced significantly in recent years. Today, patients who choose this tooth-replacement solution can enjoy numerous benefits, including:
10+ year lifespan.
Easy cleaning.
Complete personalization.
Natural-looking appearance.
Improved bite.