Advanced Dental Services & Technology s – Edmond, OK
Experience State-of-the-Art Family Dentistry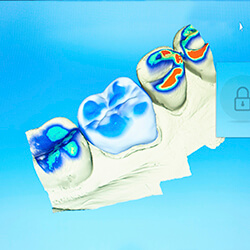 When you choose a dental office that has invested in the latest dental technology, you're setting yourself up to receive the most comfortable, modern, efficient dental care available today. At Bluff Creek Dental, we are pleased to offer patients in and around Edmond, OK with cutting-edge dentistry using advanced dental services and technology. From one-visit restorations to digital images and much more, Dr. Patrick Crowley and our team are providing high-tech care for extraordinary dental experiences!
Nitrous Oxide Dental Sedation
Nitrous oxide sedation provides great help for patients who have trouble relaxing at the dentist's office. More commonly known as laughing gas, nitrous oxide is an odorless gas you breathe in throughout your dental treatment in Edmond. It removes your worry and makes our jokes a little funnier, too! Best of all, the effects wear off as soon as the mask is removed, so you can go on about your day without any lasting grogginess.
DigiDoc Intraoral Camera
Our team has been using intraoral photography for years now to help patients better understand their oral health concerns and treatment options. We recently upgraded to the DigiDoc intraoral photography system. This state-of-the-art intraoral camera allows us to capture crystal clear images of your teeth. It also uses advanced sub-enamel illumination to capture images that go through your enamel. This makes it possible for us to quickly and accurately make earlier diagnosis of tooth decay, dental cracks, and other concerns, using just our cameras. Improved diagnosis, increased treatment planning precision, and fully repaired smiles with conservative treatment options – all of this and more are possible thanks to our new DigiDoc intraoral camera.
Learn more about the DigiDoc Intraoral Camera
Digital X-Rays
Digital x-rays offer a faster, more efficient alternative to traditional radiography — and they also give us a more accurate look at your teeth and oral structures. We can capture digital x-rays quickly and have them transferred to the screen almost instantly. Digital radiography exposes you and your loved ones to far less radiation than traditional x-rays, which is especially beneficial for children. Bluff Creek Dental near Piedmont uses the Dexis system of digital x-rays.
Sirona 3D X-Ray Technology
Because they make visible areas of the tooth that are impossible to see with the naked eye, X-rays are an invaluable diagnostic tool for any dental office. With digital X-rays, we can capture crystal clear images in an instant while also dramatically reducing the amount of radiation that you and your loved ones are exposed to in the capturing process. In addition to regular 2D digital X-rays, we also use the Orthophos SL 3D tool, which provides a more complete image for even better treatment planning of more complex dental procedures. Digital X-rays are safe, efficient, and produce better results overall!
Digital Impression System
If you have ever had braces or any kind of restorative dental care, you've probably had to sit through a traditional bite-down impression. This method is uncomfortable for most people, but it can be nearly impossible for patients with sensitive gag reflexes. For CEREC one-visit restorations, we can use our digital impression system to quickly capture and recreate a three-dimensional model of your teeth and supporting oral structures. It's faster, easier, and far more comfortable for you!
CEREC One-Day Dental Crowns
Your dentist in Edmond may recommend a dental crowns for teeth that are broken, worn down, or too decayed for a traditional filling to repair. The traditional method for placing a dental crown takes place over the course of two visits to the dentist and a week or two of waiting in between. With CEREC technology, however, Dr. Crowley can plan for, prepare, and place a beautiful porcelain dental crown all in one visit! This method is much more efficient than the conventional approach -- and, because it uses digital scans instead of bite-down impressions, CEREC is also far more comfortable for you. One-day crowns are also beautiful, sturdy, and long-lasting!
Soft Tissue Laser Dentistry
Our top-of-the-line soft tissue laser allows us to offer the very best in gum disease treatment and other periodontal procedures. Using highly-concentrated laser power, we zap through infected pockets in the gums without the use of scalpels or stitches, reducing recovery periods and increasing your comfort throughout the process. The soft tissue laser can also be used to remove excess gum tissue to fix "gummy smiles," and other cosmetic and therapeutic procedures for the gums.
Intraoral Lasers
Your dentist in Edmond can provide excellent gum disease treatment and other soft oral tissue procedures with the help of the intraoral laser. This concentrated beam of light allows Dr. Crowley to cut away at diseased and infected tissue with extreme precision, leaving more of the healthy tissue intact. Treatment for a gummy smile is also far easier and faster with the intraoral laser. Laser dentistry minimizes bleeding, eliminates the need for a scalpel and sutures, and also speeds healing because it sanitizes as it works.
We invite you to visit Bluff Creek Dental's cutting-edge dental office in Edmond, OK! Contact us to schedule an appointment today.