Innovative Dental Technology & Patient Comforts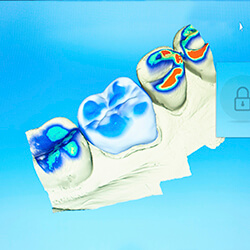 When you choose a dental office that has invested in the latest dental technology, you're setting yourself up to receive the most comfortable, modern, efficient dental care available today. At Bluff Creek Dental, we are pleased to offer patients in and around Oklahoma City with cutting-edge dentistry using advanced technology. From one-visit restorations to digital images and much more, Dr. Patrick Crowley and our team are providing high-tech care for extraordinary dental experiences!
Nitrous Oxide Sedation
Nitrous oxide sedation provides great help for patients who have trouble relaxing at the dentist's office. More commonly known as laughing gas, nitrous oxide is an odorless gas you breathe in throughout your treatment. It removes your worry and makes our jokes a little funnier, too! Best of all, the effects wear off as soon as the mask is removed, so you can go on about your day without any lasting grogginess.
Intraoral Camera
While discussing your treatment plans, we prefer to show and tell — but it's not so easy to let you look in your mouth using our small mirrors. That's why Dr. Crowley and our team are happy to have the Carestream IOC, an intraoral camera that lets us include you in your treatment plans more effectively than ever. It's a small, handheld tool that quickly captures images of your teeth and gums, then transfers them onto a screen right by your chairside.
Digital X-Rays
Digital x-rays offer a faster, more efficient alternative to traditional radiography — and they also give us a more accurate look at your teeth and oral structures. We can capture digital x-rays quickly and have them transferred to the screen almost instantly. Digital radiography exposes you and your loved ones to far less radiation than traditional x-rays, which is especially beneficial for children. Bluff Creek Dental uses the Dexis system of digital x-rays.
Digital Impression System
If you have ever had braces or any kind of restorative dental care, you've probably had to sit through a traditional bite-down impression. This method is uncomfortable for most people, but it can be nearly impossible for patients with sensitive gag reflexes. For CEREC one-visit restorations, we can use our digital impression system to quickly capture and recreate a three-dimensional model of your teeth and supporting oral structures. It's faster, easier, and far more comfortable for you!
Soft Tissue Laser
Our top-of-the-line soft tissue laser allows us to offer the very best in gum disease treatment and other periodontal procedures. Using highly-concentrated laser power, we zap through infected pockets in the gums without the use of scalpels or stitches, reducing recovery periods and increasing your comfort throughout the process. The soft tissue laser can also be used to remove excess gum tissue to fix "gummy smiles," and other cosmetic and therapeutic procedures for the gums.
We invite you to visit Bluff Creek Dental's cutting-edge dental office in Oklahoma City! Contact us to schedule an appointment today.