Periodontal Therapy – Edmond, OK
Renew Your Oral Health with Gum Disese Treatment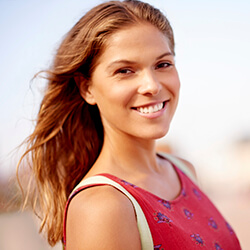 It's easy for bacteria from the gums to enter into the bloodstream, and that means your periodontal health is a vital part of your systemic wellbeing. If you are one of the millions of American adults suffering from gum disease, know that its treatment can help you prevent a host of related health issues, including cardiovascular disease, high blood pressure, and other serious conditions. Dr. Crowley provides comfortable, effective periodontal therapy in Edmond, OK at Bluff Creek Dental. Contact us to schedule a periodontal evaluation or treatment today!
Scaling & Root Planing
In the beginning stages of gum disease, improved dental hygiene at home and a couple extra visits to Bluff Creek Dental are usually sufficient for reversing the condition. But after the disease has progressed to moderate levels, more advanced treatment will be necessary. Also known as a deep cleaning, scaling and root planing is a non-surgical treatment in which we reach deep below the gum line to remove the plaque and bacteria buildup that lead to gum disease.
Using special tools, we clean the surface of your teeth and below the gum, ridding your smile of infection-causing bacteria. Then, while "planing," we smooth the roots of the infected teeth to prevent the reoccurrence of gum disease in Edmond. Nitrous oxide is available for your comfort throughout the treatment.
Scaling and root planing is often performed over the course of several visits to Bluff Creek Dental, and may be combined with laser therapy for complete healing.
Soft Tissue Laser Dentistry
Our soft tissue laser allows us to offer the most precise, comfortable therapy for moderate levels of gum disease. Bluff Creek Dental near Piedmont has invested in a top-of-the-line soft tissue laser for cleaning out the infected pockets, or the area where the infection lives between the teeth and the gums. The soft tissue laser also promotes healing by disinfecting the treatment area while it works, for a faster, more comfortable recovery.