Dental Implant Failure & Salvage – Edmond, OK
Saving Your Smile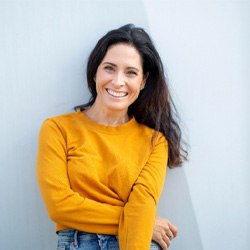 The initial placement success rate for dental implants is 95%. It is unlikely that you will experience any complications after undergoing this type of treatment. However, there is the possibility that a problem could occur, resulting in a failed dental implant in Edmond. Dr. Patrick Crowley and our team, however, can remedy the problem and save your smile for the future. With dental implant salvage, we can give your smile another chance for optimal success. Call us today to learn more.
Why Do Dental Implants Fail?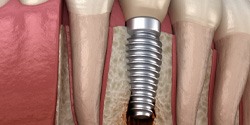 There are several reasons why dental implants fail, some of which include:
Peri-implantitis
A weakened immune system
Improper placement
Facial trauma
Failed osseointegration
It's important that you make sure that you're choosing an implant dentist in Edmond who is reputable and capable of performing this type of procedure. This will ensure that your dental implants are properly in place and fuse with no issues. However, if you develop peri-implantitis, facial trauma, or failed osseointegration because of your overall health or bad habits, you must seek immediate treatment.
With peri-implantitis being the leading cause of failed dental implants, it will be necessary for Dr. Crowley to perform gum disease treatment on your soft oral tissues. When bacteria attack this area of your mouth, it breaks down the bone and gums, causing the implant to become loose.
Symptoms of Failed Dental Implants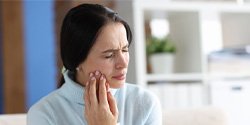 If you're unsure whether you are dealing with a failed dental implant or not, there are a few symptoms that will point you in the direction of your implant dentist, such as:
A loose dental implant
Pus forming on the gums
Difficulty eating or biting down
Swelling or bleeding
Discomfort that doesn't dissipate
How Dental Implant Salvage Works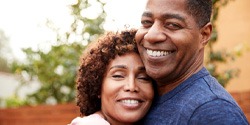 To ensure that Dr. Crowley can remedy the problem of your failed dental implant, he will need to examine your mouth to determine if the problem is peri-implantitis. If so, he may be able to treat the area of your gums without removing the actual post. If necessary, though, a bone graft may be required to help build up that particular area of bone.
If facial trauma or failed osseointegration is to blame, the implant will need to be removed so that the area can properly heal. Only then can we discuss whether you will pursue a new dental implant or not.
Should overall health problems be to blame, you will need to speak with your local physician about what you can do to better manage your condition or change your medication so that you can have success with dental implants.