Smile! You Have a MetLife Dentist in Edmond, OK!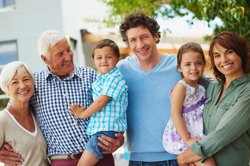 Healthy teeth and a beautiful smile are only part of the service we provide at Bluff Creek Dental. For your convenience, we also accept dental insurance including MetLife. As a MetLife dentist in Edmond, OK, Dr. Crowley is pleased to offer a complete menu of dental treatments so you and your family can have smiles that are both healthy and beautiful.
MetLife In-Network Dentist
What exactly does it mean when you see an in-network dentist? It means that Dr. Crowley has agreed with the insurance company to accept a predetermined fee as payment in full for a covered service. With MetLife, these fees are usually anywhere from 15 to 45 percent less that the average charge for a similar service at another dentist in Edmond. Negotiated fees are subject to a co-payment, deductible, cost sharing and the maximum benefits that your plan allows.
Dental Insurance from MetLife
MetLife offers group dental insurance including dental PPO programs, MetLife PDP and PDP Plus. In addition, there is MetLife Take Along Dental, which is dental insurance purchased through your employer or on your own so you and your family have coverage even if you change jobs. Most MetLife dental insurance plans cover cleanings, x-rays, fillings, dentures, sealants, orthodontics, crowns, extractions, and root canals. Like most other dental insurance carriers, MetLife does not cover cosmetic dentistry.
Regardless of the type of plan you have from MetLife, our staff will be glad to file your claims to ensure you receive the maximum allowable benefits for any covered procedure. We'll help you understand the details of your plan. We can also explain your coverage for a particular procedure before you schedule an appointment.
Dental Services at Bluff Creek Dental
Your dentist in Edmond offers just about all of the services you need to have a smile that is healthy and attractive. Dental insurance from MetLife is designed to encourage you to schedule dental checkups every six months. These twice-yearly appointments are the foundation of good oral health. They include teeth cleaning and a dental exam that allows Dr. Crowley to monitor your oral health and spot problems sooner rather than later. Typically, dental insurance fully covers these visits. When you fail to keep these appointments, however, you are essentially forfeiting your dental benefits. Therefore, it is in the best interest of your smile and your finances to schedule appointments for the preventive and restorative care you need.
If you have questions about how we can use your MetLife Dental Insurance to help you save on your oral health care, please contact us today.