Dental Implant Dentures – Edmond, OK
Creating a Permanent and Longer-Lasting Smile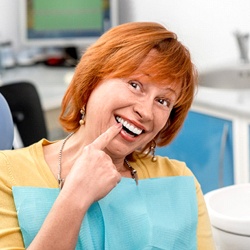 Are traditional dentures an effective way to restore your smile? Yes, they are. Do they offer stability and permanency? Unfortunately, not always. If you're someone who is tired of dealing with messy adhesives, accidental slippage, and the changes occurring to your facial appearance as a result of missing teeth, there is a better solution – dental implant dentures in Edmond, OK. At Bluff Creek Dental, Dr. Patrick Crowley will work with you to create a treatment plan, so you have a smile that improves your confidence and oral health. To get started, contact us to schedule an appointment with Dr. Crowley.
How Do Dental Implant Dentures Work?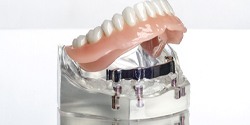 When you arrive for your procedure, the length of time it takes will depend on the number of teeth you need to replace. The implants, which are titanium posts, will be surgically placed within your jawbone. This will provide a solid foundation or your permanent dentures and act as the roots of your teeth. These implants will stimulate your bone, so it doesn't deteriorate. Bone loss can cause significant problems to your oral health including facial collapse, shifting teeth, and additional tooth loss.
It will take several months for the implants to fuse to the jawbone correctly, but once you are finished healing and Dr. Crowley is satisfied, you'll return to our dental office in Edmond. A small incision will be made to expose the top of the implant and after a few weeks of healing, you'll come back for another appointment and have your implant dentures placed.
Am I a Candidate for Dental Implant Dentures?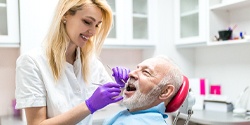 If you are strongly considering implant dentures, Dr. Crowley will perform a thorough examination to conclude if you are a qualified candidate. It's important that he review your medical and dental history and determine if you have enough bone support. If you do not have sufficient bone density, this can cause your implant to fail, as it will not properly fuse to the bone. If this is the case, there are other options that make it possible for you to receive implant dentures, such as a bone graft.
The Dental Implant Dentures Procedure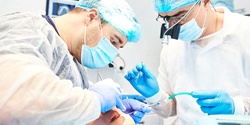 Receiving implant dentures is a lengthy process, so you'll need to be patient. During your initial consultation, Dr. Crowley will discuss cost, treatment, and the procedure. He'll evaluate you to make sure you are qualified to receive this method of treatment.
Once it is determined that you are a good candidate for implant dentures, Dr. Crowley will make a small incision in the gum line and place the implants. The number you'll need will be determined by Dr. Crowley. A small hole will be drilled into your jawbone, so the implant can be properly placed. He will stitch the incision closed once he is finished placing the implants. Over the course of the next several months, the implants will fuse to the bone, providing a stable foundation.
Returning to our dental office after 3 to 6 months of healing, we'll make a small incision to expose the implant and prepare it for your dentures. After a few weeks of healing, you'll visit our dental office near Piedmont for your final appointment and have your dentures secured to your implants.
Benefits of Combining Dentures & Dental Implants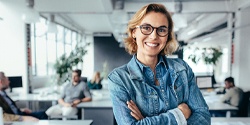 You'll experience increased stability because of the implant's surgical placement into your jawbone.
They provide a level of self-confidence in your ability to chew, eat, and speak clearly.
You'll have improved oral health. This is because your jawbone will not deteriorate but stay stimulated thanks to dental implants.
You'll have an improved facial appearance.