Root Canal Therapy – Edmond, OK
We Can Save Your Infected Tooth
If a tooth has become badly decayed, sometimes your best hope of saving it is with root canal therapy. Dr. Crowley can use this procedure to get rid of infected tissues and stop the damage from spreading any further; he'll also make sure your tooth is brought back to full strength with a filling or crown afterwards. If you have a toothache that won't go away, it may be time to contact Bluff Creek Dental and schedule an appointment for root canal therapy in Edmond, OK.
Why Do I Need a Root Canal?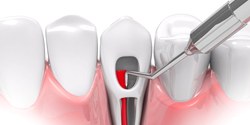 The bacteria in your mouth can eat any sugar you consume and secrete it as acid that gradually wears down your enamel. Sooner or later, if this decay isn't stopped, the bacteria will enter the tooth and infect the pulp inside. In most cases, this will cause persistent pain, and an abscess (a pus-filled pocket) will eventually form. The infection will eventually spread to other parts of the body if it's not stopped.
A root canal in Edmond is often the only way to save an infected tooth; if the procedure isn't performed, you'll likely need an extraction instead. You can replace a tooth that's been removed, but if you want to maintain ideal oral health, it's better to keep all of your natural pearly whites.
Root Canal Procedure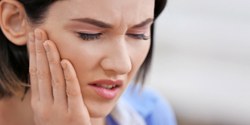 Benefits of Root Canal Therapy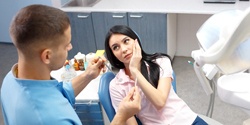 By saving your tooth instead of getting an extraction, you'll be able to enjoy several benefits, such as:
Continuing to Chew Normally: Missing teeth can affect your ability to chew. If you have root canal therapy, you'll be able to eat normally again within a few days.
No Need for a Replacement: You can replace a missing tooth with a dental implant, a bridge or partial dentures, but it'll be more cost effective to just keep your natural tooth.
Pain Relief: A root canal in Piedmont will stop the pain of an infection. On the other hand, some patients find that getting a tooth removed often causes as much pain as the toothache itself!
Root Canal Recovery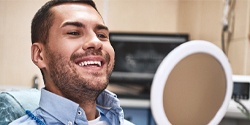 Ibuprofen and other pain medications can help with any discomfort you might experience. You should avoid chewing on the treated tooth until you've received your permanent filling or crown; in the meantime, it's best to stick to a diet of soft and liquid foods. You can brush and floss like normal, but be extra gentle around the site of the surgery.