Root Canal Therapy – Edmond, OK
We Can Save Your Infected Tooth
If a tooth has become badly decayed, sometimes your best hope of saving it is with root canal therapy. Dr. Crowley can use this procedure to get rid of infected tissues and stop the damage from spreading any further; he'll also make sure your tooth is brought back to full strength with a filling or crown afterwards. If you have a toothache that won't go away, it may be time to contact Bluff Creek Dental and schedule an appointment for root canal therapy in Edmond, OK.
Why Do I Need a Root Canal?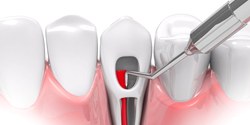 The bacteria in your mouth can eat any sugar you consume and secrete it as acid that gradually wears down your enamel. Sooner or later, if this decay isn't stopped, the bacteria will enter the tooth and infect the pulp inside. In most cases, this will cause persistent pain, and an abscess (a pus-filled pocket) will eventually form. The infection will eventually spread to other parts of the body if it's not stopped.
A root canal in Edmond is often the only way to save an infected tooth; if the procedure isn't performed, you'll likely need an extraction instead. You can replace a tooth that's been removed, but if you want to maintain ideal oral health, it's better to keep all of your natural pearly whites.
Root Canal Procedure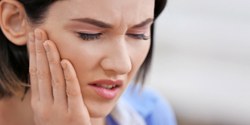 Benefits of Root Canal Therapy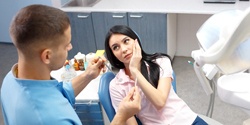 By saving your tooth instead of getting an extraction, you'll be able to enjoy several benefits, such as:
Continuing to Chew Normally: Missing teeth can affect your ability to chew. If you have root canal therapy, you'll be able to eat normally again within a few days.
No Need for a Replacement: You can replace a missing tooth with a dental implant, a bridge or partial dentures, but it'll be more cost effective to just keep your natural tooth.
Pain Relief: A root canal in Piedmont will stop the pain of an infection. On the other hand, some patients find that getting a tooth removed often causes as much pain as the toothache itself!
Root Canal Recovery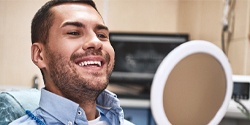 Ibuprofen and other pain medications can help with any discomfort you might experience. You should avoid chewing on the treated tooth until you've received your permanent filling or crown; in the meantime, it's best to stick to a diet of soft and liquid foods. You can brush and floss like normal, but be extra gentle around the site of the surgery.
Root Canal FAQs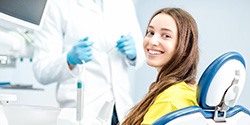 Out of all of the tooth-saving treatments available, root canals arguably have the worst reputation. However, this is largely because of misinformation that continues to circulate on the internet and through word of mouth. That's why we always encourage our patients in Edmond to bring any questions they have to our team – we can help you find the answers! You can even learn more on the topic of root canal therapy right here.
Are Root Canals Painful?
Hands down, the most asked question about root canals is, "Do they hurt?" Fortunately, the answer is "no!" First, the techniques and technology used today are more advanced, innovative, and efficient than ever, which helps streamline the treatment process tremendously. However, we also always thoroughly numb that area of your mouth before restoring your tooth. Plus, we offer dental sedation for patients who have a complex treatment plan, who struggle with dental sensitivity, or who simply feel nervous in the treatment chair. Simply put, we will do whatever we can to make your experience at our office completely pain-free.
Do I Still Need a Root Canal If My Toothache Went Away?
Another common misconception is that pain is the only symptom of a severely decayed or infected tooth. That's not the case. If your toothache has subsided, there's a good chance it's because the nerve of your tooth is "dead," causing it not to register any pain. This is a very serious issue because it won't take long for the root of the problem to spread to your surrounding teeth and gums, negatively impacting the look, health, and function of your smile in the process.
Can Root Canals Be Prevented?
Yes, the large majority of the time, root canals can be prevented. That requires a commitment to a solid at-home oral hygiene regimen, including brushing and flossing consistently and avoiding unhealthy dental habits, such as smoking. Another key is visiting our Edmond dental team twice a year for a checkup and cleaning. This serves two purposes for preventing root canals specifically: it removes plaque and tartar, and it ensures we catch tooth decay before it penetrates to the inner layers of your tooth.
Why Do I Need a Root Canal If My Tooth Doesn't Hurt?
We touched on this briefly in one of the previous answers (that pain isn't the only symptom of serious dental decay or damage). If you want to learn more about why your dentist is recommending a root canal, don't hesitate to ask! From there, they can review what they found on your X-ray and during their exam that led them to suggest this restorative treatment. They can also provide additional information on the advantages of this tooth-saving service over others (like tooth extractions) and what will happen if you wait too long to get the dental care you need. That way, you feel completely informed about your options and what's going on with your oral health.