Dental Crowns – Edmond, OK
Renewing the Function & Beautify of Your Tooth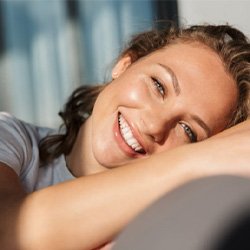 Although your tooth enamel is the hardest material in your body, it doesn't mean your smile is immune to damage. Whether over time or with one wrong bite, you can potentially wear down or break a tooth. Leaving it unaddressed can risk future damage or infection, and since it won't regenerate on its own like your normal bones, you'll need to get it repaired as soon as possible. That's where dental crowns in Edmond come into play! With these custom and durable restorations , we can effectively improve the appearance and structure of your damaged tooth so that you can enjoy a comfortable bite again. Keep reading to learn more or call us to schedule your consultation.
Why Choose Bluff Creek Dental for Dental Crowns?
Utilizes Tooth-Colored & Lifelike Dental Materials
Offers CEREC Same-Day Restorations
Accepts Dental Insurance & Financing
What Is a Dental Crown?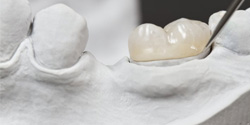 Dental crowns are tooth-shaped caps that our team can precisely design to cover the top of your damaged teeth, allowing them to blend perfectly with the rest of your smile. The material is incredibly durable and is meant to hold the tooth together while protecting it from further harm. Our team will also match the crown with the same color as your tooth enamel, as the material can closely mimic your natural pearly whites. In the end, a dental crown is a reliable restoration that can renew the function of a compromised and/or weakened tooth while keeping it safe from further damage. This advanced restoration can be constructed from a variety of materials, such as metals, porcelain-fused-to-metal, ceramic, and zirconia.
The Dental Crown Process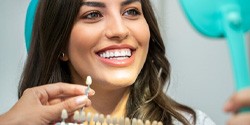 Most traditional dental crowns will require at least two visits to complete the process. Firstly, your dentist will need to evaluate your oral health and determine if you're eligible for the treatment before preparing your tooth for restoration. Your team will numb your mouth completely before shaving down a layer of your enamel to make space for your dental crown. Impressions will be taken and sent to a dental lab for fabrication, which can usually take a few weeks. You'll wear a temporary crown until the final restoration arrives. You'll then return to get it placed, asking any questions you may have. Your team will verify your results are correct and satisfactory before sending you on your way.
While traditional crowns are reliable, our team at Bluff Creek Dental can use CEREC technology to construct these restorations in just a single visit! We'll prepare your tooth and take impressions like normal, but we'll use this information to fabricate your dental cap in-office instead. After a couple of hours, you should be able to enjoy your newly restored smile.
The Benefits of Getting a Dental Crown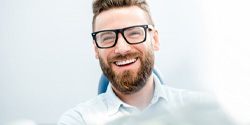 With dental crowns, you can be sure to appreciate a wide variety of advantages to your smile, including:
Improved eating, chewing, and speaking without discomfort
Preserve compromised teeth and avoid potential extraction
Protection against decay, infection, and further damage
Lifelike and durable materials for a flawless blend with your smile
Enhanced function and appearance of your tooth