All-On-4 – Edmond, OK
Permanent Teeth, Longer-Lasting Smiles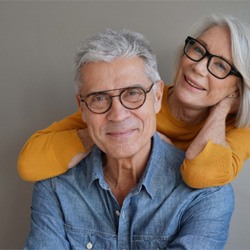 Finding out that you do not qualify for regular dental implants can feel defeating. All you want is a permanent smile that functions normally and allows for a more pleasing aesthetic. But when your jawbone lacks the necessary density, it might seem as if all hope is lost. The good news is that it is not! At Bluff Creek Dental, Dr. Crowley and our team offer All-On-4 as an alternative solution to traditional implants. With these custom creations, you can take back your smile and your confidence, enjoying stronger, healthier teeth for years to come. Call us today to schedule a consultation with our team.
How Do All-On-4 Implants Work?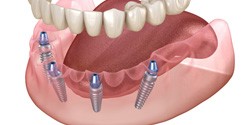 When opting for All-On-4 dental implants, you'll be pleased to learn that you'll only need four implant posts. Instead of placing up to six or eight for an implant denture, you can save on cost and reduce your recovery time.
After taking diagnostic images of your oral and facial structures, your implant dentist will note the densest areas of your jawbone. This will allow us to pinpoint the exact location of each dental implant. Not only does this eliminate the need for a bone graft, but you'll also enjoy the same great, permanent results others achieve with regular dental implants.
Two posts are placed toward the back of the mouth and positioned at a 45-degree angle, while two anterior posts are placed toward the front and serve to better support your new smile.
Am I a Candidate for All-On-4 Implants?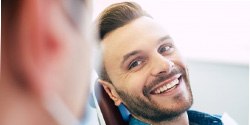 To determine if you are a qualified candidate for All-On-4 implants, you will need to schedule a consultation with Dr. Crowley. It is during this appointment that he will survey the status of your oral and overall health as well as your jawbone density.
You must have good oral health and be in good enough shape to undergo minor oral surgery, as it does require an invasive procedure to place each implant. If you have an autoimmune disorder or another condition that weakens your immune system, you'll need to see a local physician to better manage your health and wellness before undergoing dental implant placement.
Benefits of All-On-4 Implants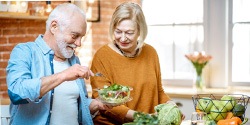 Choosing All-On-4 implants is a great way to restore your smile. With these permanent prosthetics, you can expect to:
Enjoy a longer-lasting smile that is capable of remaining in place for a lifetime.
Clean your new teeth without having to buy specialized products. All you need is a soft-bristled toothbrush, dental floss, and non-abrasive toothpaste.
Eat your favorite foods because of your increased bite force and chewing power.
Maintain more of your natural, youthful appearance because of how the implants deliver continuous stimulation to your jawbone.
All-On-4 vs. Traditional Implants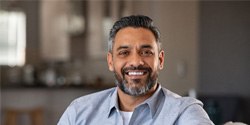 When compared to traditional implants, All-On-4 can provide greater advantages, some of which include:
A quicker recovery time because you only need four implant posts instead of six or eight.
Reduced costs because of the fewer implant posts required for optimal and supportive placement.
The potential to receive your customized restoration the same day as your All-On-4 placement.
Avoiding additional procedures such as bone grafting that can cost more and add several months to your overall timeline.