August 20, 2020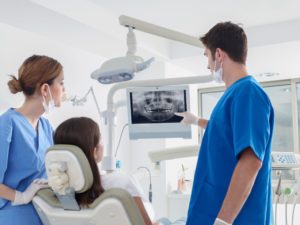 Everyone wants to have a beautiful smile full of healthy, beautiful teeth. Unfortunately, life isn't perfect, and sometimes we have to get some of our pearly whites removed. Although there are several options available these days to replace missing teeth, the most beneficial choice by far is dental implants. These titanium posts create a sturdy foundation for replacement teeth that look, feel, and function just like the ones you were born with. Before you can schedule your implant placement surgery, you have to first attend a consultation with your dentist. Here's what that appointment might look like.
Examination
First things first, your dentist will closely examine your teeth and gums to get a better picture of your overall oral health. They'll also go over your medical history to find out whether you have any conditions that could make getting dental implants more difficult, such as diabetes or osteoporosis. From there, they can talk about the risks involved and how to minimize them.
X-Rays
Next come the x-rays and computer tomography (CT) scans of your mouth. These highly detailed images help your dentist determine exactly how dense your jawbone is, whether there is enough bone structure to support dental implants, and where exactly the implants should be placed. In many cases, tooth loss can leave the jawbone with insufficient strength to accommodate implants. This problem can often be remedied by undergoing a bone graft before implant placement.
Treatment Planning
After your dentist has performed their exam and taken x-rays, they can discuss personalized treatment options with you. Don't be afraid to ask questions here. Dental implants are a major investment, so you should learn as much about them as you can in order to make a well-informed decision regarding your oral health.
Your dentist will go over the various steps in the treatment process, including:
Approximately how long treatment should take
How many appointments you'll need to attend
Options for local anesthetic and sedation
The timeline for recovery
Aftercare instructions
Dental implants are one of the most worthwhile investments you could make in terms of your oral health. They offer countless benefits, both in your health and the way your smile looks. If you're ready to have a full, beautiful smile again, give your dentist a call to schedule an implant consultation.
About the Author
Dr. Patrick Crowley is a graduate of the University of Oklahoma College of Dentistry and currently practices at Bluff Creek Dental in Oklahoma City. Unlike many general dentists, he has undergone the specialized training required to both place and restore dental implants. This means you can complete the whole process under one roof. To learn more about whether dental implants are right for you, visit Dr. Crowley's website or call (405) 751-5515.
Comments Off

on What Does a Consultation for Dental Implants Look Like?
No Comments
No comments yet.
RSS feed for comments on this post.
Sorry, the comment form is closed at this time.