Benefits of Dental Implants – Oklahoma City, OK
Invest in a Long-term Solution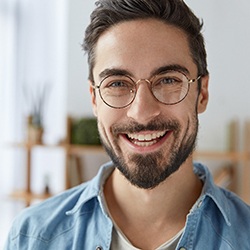 Although you never thought it would happen to you, you've lost a tooth or two over the years. You can enjoy a nearly perfect replica of your natural tooth using a dental implant. As the only prosthetic to replicate both the root and the crown, you'll have the next best thing to your real tooth while also achieving several additional benefits of dental implants as well. Here are 5 reasons dental implants are an investment in your oral health and your quality of life.
1. Recreates the entire tooth structure.
Traditional dental prosthetics only replace the portion of your tooth visible above the gum line. A dental implant takes it one step further because it also treats the root. A titanium implant post is surgically placed into your jawbone to act as a new root. The post stimulates your jaw to promote new bone growth. This allows your jaw to fuse to the post through a process called osseointegration. This provides a secure foundation for your restoration, which is connected using an abutment. This allows your dental implant to closely look and feel natural.
2. Long-term, cost-effective solution.
With your jawbone supporting the dental implant, your new smile has the potential to last forever with the right care. This allows you to make a long-term investment in your oral health because it will never need to be replaced. Not to mention, you'll also lower your overall oral health expenses because dental implants preserve your jawbone. This stops dental drift to reduce your risk of cavities, gum disease, and additional tooth loss to prevent needing a costly treatment down the road.
3. Easy maintenance and care.
You won't need to worry about adding a lengthy cleaning process to your daily routine. Unlike other dental prosthetics, you won't need any special cleaning solutions. Simply brush and floss your teeth normally. Pay extra attention when cleaning around the dental implant and the abutment. Besides caring for your smile at home, don't forget to visit your dentist at least twice a year for a cleaning and checkup.
4. Enjoy your favorite foods.
Your jawbone provides a stable foundation for your restoration, allowing you to enjoy your favorite foods. With your post secured to your jawbone, you'll regain as much as 70% of your natural biting force. You'll never need to worry about any slipping or irritation to bite and chew confidently.
5. High success rate.
Dental implants are the most predictable and reliable solution to treat tooth loss. In fact, they have over a 95% success rate. The biggest threat to their longevity is a preventable infection called peri-implantitis. You can reduce your risk of it by maintaining your home oral hygiene habits and visiting your dentist regularly. If you develop any signs of dental implant failure, don't wait to see your dentist.
Schedule an Appointment Today
If you're ready to restore a beautiful, functional smile, it's time to discover the benefits of dental implants for yourself. Contact our office today to schedule your consultation.