July 26, 2021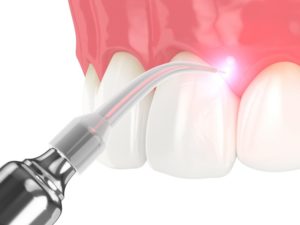 When it comes to your smile, having healthy gums is equally as important as having healthy teeth. Periodontal disease, also known as gum disease, can lead to tooth loss as well as systemic illnesses, so seeking treatment right away is crucial. However, if you've never undergone periodontal therapy before, it can seem intimidating. Luckily, your dentist has a non-surgical option to make gum disease treatment more comfortable – a soft tissue dental laser. Read on to learn about the benefits that soft tissue dental lasers can bring you!
What Is a Soft Tissue Dental Laser?
A soft tissue dental laser is a small, pen-like device that produces a highly concentrated beam of light. This light can then be shone onto the soft tissues in the mouth – such as the gums, tongue, and lips – for treatment that is more precise than traditional methods. While soft tissue lasers are often used for frenectomies (lip- or tongue-tie treatments) and gummy smile correction, they're also an effective way of addressing gum disease.
Gum Disease Treatment Options
In the early stage, known as gingivitis, gum disease is often reversible with improved at-home oral hygiene and more frequent cleanings at your dentist's office. If gum disease has progressed further, though, more advanced treatments are necessary.
Traditionally, gum disease therapy involved surgically removing the infected tissue with a scalpel and sutures. Then, a non-surgical option, called scaling and root planing, started to become widely used in dental offices across the country. With scaling and root planing, your dentist uses specialized instruments to clean the surfaces of your teeth below the gumline and smooth out the tooth roots. This option is generally more comfortable and less invasive than surgery.
However, soft tissue laser therapy is the least invasive and most comfortable gum disease treatment of all. The laser targets the infected pockets of gum tissue and promotes faster healing by sterilizing the tissue as it goes.
Benefits of Soft Tissue Dental Lasers
Soft tissue dental lasers provide multiple benefits to you and your dental team, such as:
Minimal bleeding, as the laser cauterizes the tissue and encourages quicker blood clotting.
Faster recovery time.
Reduced swelling.
Lower risk of post-op infection because the laser disinfects the tissue.
Enhanced accuracy and precision.
Decreased risk of harming nearby healthy tissue and teeth.
A more comfortable patient experience that often eliminates the need for local anesthesia.
If you suspect you need gum disease therapy, make sure to research the technology a dentist uses. Seeing a dentist who uses a soft tissue dental laser will lead to a more comfortable procedure, faster healing times, and better results overall!
About the Author
At Bluff Creek Dental in Edmond, OK, Dr. Patrick Crowley prides himself on providing the most up-to-date dental technology and procedures in a relaxed environment. That's why he has invested in a top-quality soft tissue dental laser for safer, more accurate, and more comfortable treatments. He is particularly passionate about cosmetic dentistry, but he can also use the soft tissue laser for gum disease therapy. To learn more about how this technology can keep your smile healthier, contact Dr. Crowley's office at 405-751-5515.
Comments Off

on Making Gum Disease Treatment More Comfortable with a Soft Tissue Dental Laser
No Comments
No comments yet.
RSS feed for comments on this post.
Sorry, the comment form is closed at this time.