May 28, 2021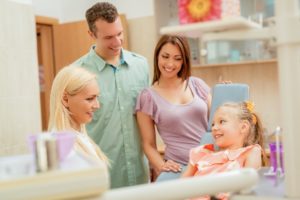 Life can get pretty busy when raising a family. Between your responsibilities at home, your work schedule, and your child's extracurricular activities, it doesn't leave much time to juggle multiple dental offices. What if there was an easier way for everyone to get the dental care they need? There is! A family dentist provides the personalized, high-quality care your loved ones deserve from a single location. Here are 6 great benefits of choosing a family-friendly dental office.
1. Comprehensive Care Under One Roof
You won't have to drive to various dentists for everyone in your home to get the services they need. A family dentist has diverse training to treat patients of all ages. From young children to the elderly, they'll have everything you need under one roof to save time, including preventive, restorative, and cosmetic dentistry.
2. Higher Level of Care
Various factors influence your family's oral health, like genetics and their environment. A family dentist can help safeguard their smiles from certain issues they may be predisposed to develop, like gum disease. By treating everyone in your home, they'll have a unique understanding of specific issues pertaining to your family. As a result, they can create a personalized strategy to prevent them from occurring in the first place.
3. Convenient Appointment Scheduling
You won't need to worry about several missed days of work or school to accommodate dental appointments. You're able to schedule multiple people on the same day. The entire family can get the cleanings and checkups they need in a single appointment.
4. Easy Record Reference
Tracking down dental records will be easy because everyone's files will be kept at one location. This makes it easy for your dentist to review their oral health history. It also simplifies insurance claims and filing to make the most of your dental coverage.
5. Promote Healthy Smiles
Research shows people who visit the same dentist for many years are more likely to maintain dental care over the years. This is especially important for children because it allows them to develop a trusted relationship with their dentist for stress-free visits. Not to mention, you'll get to know your dentist to feel confident in the decisions you're making for your oral health.
6. Advanced Technologies
A modern dental office will feature the latest treatments and techniques to create effective, comfortable services, like digital X-rays. Your family will benefit from improved accuracy and superior results to ensure everyone in your home achieves their best smile.
Experience the Difference Today
If you're ready to make your life a little easier, it's time to choose a new dentist. They'll be an asset to your family to create generations of healthy, beautiful smiles.
About Dr. Patrick Crowley
Dr. Crowley earned his dental degree at the University of Oklahoma College of Dentistry and completed his AEGD residency to gain experience in all aspects of dentistry. He combines his training and qualifications with the latest innovations to provide exceptional care. If you need a family dentist, contact our office today to schedule an appointment.
Comments Off

on 6 Reasons to Choose a Family Dentist
No Comments
No comments yet.
RSS feed for comments on this post.
Sorry, the comment form is closed at this time.