May 18, 2021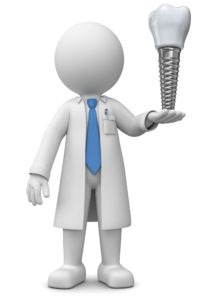 If you're ready to start your journey to a complete smile, you're making a great investment by choosing dental implants. Although you're excited to replace your missing teeth, you know you're going to need oral surgery. You might be concerned about a painful road ahead, but you don't have anything to fear. Many patients rate the discomfort of the surgery to be about the same as tooth extractions. Here's what you can expect during the next few months.
Dental Implant Placement Surgery
After you've healed for any previous treatments, you'll be scheduled for your implant placement surgery, which involves inserting the posts into your jawbone. Sedation or anesthesia is used to ensure you're comfortable, so you won't feel anything during the procedure. Depending on the type of sedative used, you may not even remember your appointment.
Recovering from Dental Implant Surgery
The effects of the medication will take several hours to dissipate, so your mouth will be numb for a while. As the medications wear off, you might develop some discomfort. Take any prescribed or over-the-counter pain relievers to keep you comfortable. You can also apply a cold compress to the outside of your face to minimize pain, swelling, and inflammation.
You'll want to avoid anything that might cause discomfort, like hard foods. It's best to stick to softer foods for a couple of days to allow your tissue to heal. Be sure to choose healthy meals and get plenty of rest. You'll want to sleep with your head elevated above your heart to prevent your blood from pooling in your head, which can increase pain.
You'll notice an improvement in your discomfort within a few days. By the end of 2 weeks, you should be recovered, but your jawbone will continue to heal below the surface, which can take several months.
Abutment & Restoration Phase
After your jawbone has healed, you'll need a second minor procedure to attach special fixtures to the posts. A local anesthetic will be used to prevent any pain as the abutments are attached to the implants. Your gums may be a bit tender for a few days, but you can easily manage it with an OTC pain reliever. A couple of weeks after your abutment procedure, your restorations will be connected to your dental implants, which shouldn't cause any discomfort.
Rebuild Your Smile Today
You don't need to let the fear of a painful dental procedure prevent you from replacing your missing teeth. Your dentist will use the latest techniques and technologies to ensure you enjoy your time in the dental chair. After a brief recovery period, you'll have a beautiful smile that can last for decades.
About Dr. Patrick Crowley
Dr. Crowley earned his dental degree at the University of Oklahoma College of Dentistry and completed an AEGD residency program, focusing on restoring dental implants. He can treat the most complex oral health issues, like tooth loss. If you're interested in dental implants, contact our office today to schedule your consultation.
Comments Off

on Are Dental Implants Painful?
No Comments
No comments yet.
RSS feed for comments on this post.
Sorry, the comment form is closed at this time.