April 20, 2021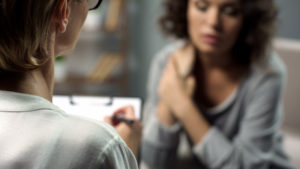 Millions of Americans suffer from some form of mental illness. It can range from depression, to heightened stress and anxiety, to distress and loneliness. The COVID-19 crisis has further complicated matters for many people, as it has contributed to a host of mental health disorders. Recent studies show a connection between mental health issues and dental problems. Continue reading to learn how the two are related and what can be done to prevent a dental health mishap.
The Results of a Recent Study
According to a study conducted by the National Health and Nutrition Examination, the majority of the participants with depression reported having a toothache in the last year. Half the people with depression admitted to having fair or poor dental health. Further research has shown a connection between periodontal (gum) disease and declining mental health.
The Connection Closely Examined
Here are some specific examples of how mental health can impact dental wellness:
Higher Cortisol Levels – Cortisol is a hormone that is expressed in stressful situations. It's one of the body's natural defenses, allowing for heightened awareness when there is a threat. While it serves as a survival mechanism, it causes inflammation and can encourage gingivitis and periodontal disease.
Medications – Many people take medications to help stabilize their mental health. Unfortunately, this can cause dry mouth and encourage the growth of oral bacteria and plaque.
Anxiety-Related Problems – People who suffer from anxiety can be vulnerable to canker sores and teeth grinding (called bruxism).
Dental Neglect Related to Poor Mental Health – A depressed, anxious, stressed or otherwise melancholy mental state can cause someone to neglect their dental care. This can leave an opening for several problems to develop in the future.
Effective Solutions
The first step to getting relief from mental distress is to contact a licensed therapist. By getting to the core of the issue, there can eventually be a breakthrough that provides some relief.
From an oral health perspective, it's important to recommit to excellent dental care. It starts with brushing and flossing at least two times a day to keep oral bacteria under control. You should also make it a habit to visit a dentist every six months for cleanings and examinations. It's also a good idea to share any mental health struggles with the dentist so that he or she can better serve you.
While these are especially tense times for many Americans, it's good to know that there are professionals available to help you achieve a state of balance. It's never too late to reach out for help, and you can start by contacting a local dentist to schedule a visit today.
About the Author
A graduate of the University of Oklahoma College of Dentistry, Dr. Patrick Crowley provides compassionate and competent dentistry. A husband and father, he understands the stresses that COVID-19 has placed on individuals and families, which is why he's doing his part to help the members of his community maintain excellent oral health. Dr. Crowley provides attentive and concise preventive care at Bluff Creek Dental, and he can be reached for more information or to schedule a visit through his website.
Comments Off

on Is There a Hidden Connection Between Mental and Oral Health?
No Comments
No comments yet.
RSS feed for comments on this post.
Sorry, the comment form is closed at this time.