January 2, 2021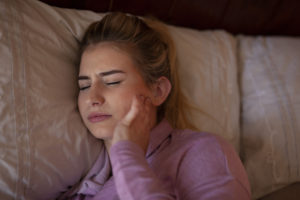 Dental implants in Northwest Oklahoma City are a popular way to replace missing teeth and restore one's appearance. It's no secret why! Dental implants provide maximum stability, a natural appearance, and can last for decades with proper care. They also have an extremely high success rate of up to 95%. However, there are certain behaviors and conditions that can increase the risk of implant failure. One of these factors is repetitive teeth grinding, also known as bruxism. Do you grind your teeth at night? Keep reading to discover the connection between bruxism and dental implant failure and whether you are a good candidate for implant treatment.
What Is Bruxism?
Bruxism is the medical term for excessive teeth grinding or jaw clenching. According to the Sleep Foundation, this common condition affects around 15% of adolescents and nearly 10% of middle-aged adults. Bruxism can be caused by stress and anxiety or by bite problems, crooked teeth, or sleep disorders such as sleep apnea. Because teeth grinding often occurs during sleeping hours, many people do not even realize that they are affected by bruxism. If you often wake up with a dull, constant headache or a sore jaw, you may be grinding your teeth at night.
Bruxism and Dental Implant Failure
Dental implants offer outstanding support to crowns, bridges, and dentures because they integrate directly with the jawbone. The natural process of integration, known as osseointegration, typically occurs over the course of several months after implant placement. However, pressure from teeth grinding or jaw clenching while an implant is healing can interrupt osseointegration and lead to implant failure.
Am I Still a Dental Implant Candidate?
Are you interested in dental implants but worried because you grind your teeth at night? Even if you are affected by bruxism, you may still be a candidate for dental implants if the health and strength of your gums and jawbone have not been compromised. The best way to determine if you can benefit from implant treatment is to schedule an initial consultation with an experienced implant dentist.
After you have had dental implants placed, you will need to take certain precautions to protect your teeth and implants from the effects of bruxism. In many cases, a dentist can provide patients with a custom mouthguard to be worn at night. Mouthguards from a dental professional can reduce teeth grinding and even out the pressure across the jaw. You may also want to ask your dentist about stretching and relaxation techniques that can help avoid this harmful habit.
While bruxism can have a serious negative impact on teeth, the condition does not automatically disqualify you from restoring your smile with dental implants. Talk to your dentist today to get started on reclaiming a full, attractive smile!
About the Author
Dr. Patrick Crowley restores patients' smiles with crowns, bridges, dentures, and dental implants at Bluff Creek Dental. The proud University of Oklahoma College of Dentistry graduate has the expertise to perform every stage of dental implant treatment, including implant placement surgery. To learn more about bruxism and dental implants in Northwest Oklahoma City, visit the Bluff Creek Dental website or call 405-751-5515.
Comments Off

on Can You Get Dental Implants If You Grind Your Teeth?
No Comments
No comments yet.
RSS feed for comments on this post.
Sorry, the comment form is closed at this time.