December 14, 2020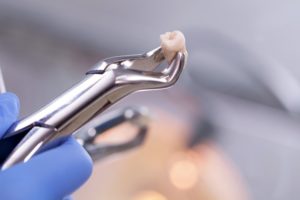 Most dentists will do everything in their power to save your teeth, but sometimes the best option for your oral health is to extract a tooth. While there are cases when the necessity for this procedure is out of your control, like impacted wisdom teeth, you can often prevent the need for a tooth extraction by being proactive about your dental health. Continue reading as a dentist in OKC discusses four easy ways to avoid needing a tooth extraction.
Protect Your Smile
If you're an athlete, you can't always tell when a ball or elbow is going to hit you in the face. You can, however, protect your teeth from damage. Ask your dentist about a custom-made mouthguard to wear over your teeth to shield them from injury. Otherwise, a blow to the face could knock out or damage a tooth so badly that it has to be extracted.
Get Cavities Treated ASAP
Tooth decay starts out simple – bacteria in your mouth feed on sugar particles left on your teeth and create an acidic waste product. That acid then wears through your tooth enamel, forming holes called cavities. Because the tooth enamel doesn't contain nerves, you often don't notice cavities in their early stages. However, once the decay reaches the nerves in the tooth's center, it often causes extreme pain. In some cases, the tooth can be saved with a root canal, but in others, the damage may be so severe that the tooth must be removed. If your dentist says you have a cavity, get a filling scheduled right away. Also, if you notice any other signs of tooth decay, like a dark spot on your tooth or gums, call your dentist promptly.
Don't Ignore Gum Disease
Like tooth decay, gum disease often isn't noticeable at first. Your gums may bleed when brushing and flossing, which may not seem like a big deal. Eventually, though, this bacterial infection can weaken the structures supporting your teeth, causing them to fall out. In fact, gum disease is the leading cause of tooth loss in the U.S. If you notice any discomfort or bleeding in your gums, promptly tell your dentist.
Keep Up with Your Oral Hygiene
Preventing gum disease and tooth decay involves the same principle – taking care of your teeth! Brushing twice a day, flossing at least once daily, and seeing your dentist in OKC for a checkup and cleaning every six months can go a long way toward identifying and treating these problems before they result in tooth loss.
When it comes to your dental health, an ounce of prevention is definitely worth a pound of cure! Follow these tips to keep your natural pearly whites in great shape for decades to come.
About the Author
At Bluff Creek Dental, Dr. Patrick Crowley and his team provide their patients with exceptional dental care. Even after completing an Advanced Education in General Dentistry residency program at the University of Oklahoma, he still takes continuing education courses focused on a wide variety of services, such as preventive care, dental implants, and tooth extractions. To learn more or schedule your next checkup and cleaning, contact Dr. Crowley's office at (405) 751-5515, or visit his website today!
Comments Off

on 4 Simple Ways to Avoid Tooth Extractions
No Comments
No comments yet.
RSS feed for comments on this post.
Sorry, the comment form is closed at this time.