September 29, 2020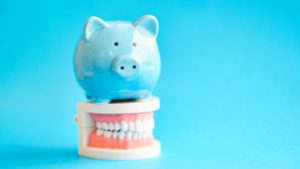 Every year, billions (yes, with a B) of dollars in dental insurance benefits are wasted because people aren't taking full advantage of the coverage that comes with the plans they're paying for. The vast majority of insurance plans are renewed annually, which means that once January 2021 rolls around, any benefits you haven't used yet in 2020 will be gone forever. Thankfully, your dentist has some tips on how to save money by utilizing your benefits before it's too late.
The Most Important Number to Remember
The key to making the most out of your dental insurance lies in a number called your annual maximum, which is the largest amount of money that your insurance company is willing to spend on your dental care in one calendar year. Often, this amount is upwards of $1,000. To maximize your benefits, figure out this number and use as much of it before 2020 is over and your unused benefits disappear. What's the best way to utilize the coverage you're already paying for? Visiting your dentist, of course!
Regular Preventive Care Saves You Money
Most dental insurance companies want you to be proactive about your oral health, which is why they often cover 100% of preventive treatments like checkups and cleanings. The best way to use up your annual maximum is to see your dentist regularly. Not only does this save you money on insurance benefits, but it often prevents the need for more extensive and costly treatments down the road. For example, failing to get a cavity filled could require a root canal, or gum disease can progress to the point where you lose your teeth. Both of these problems are easily detected and treated in their early stages. Routine dental visits are great for your health and your wallet!
Don't Forget to Meet Your Deductible
Another number to keep in mind is your deductible. This is a small amount of money, usually around $50, that you must pay out-of-pocket before you unlock coverage from your insurance company. Once you've reached this amount, you can try to use as much of your benefits as possible that year before they expire and you have to pay your deductible again the next year.
See Your Dentist Today!
Dental insurance plans typically cover two checkups and cleanings a year. If you haven't seen your dentist twice so far in 2020, you're losing coverage that you're already paying for with your premiums. It's also a good idea to get any dental work you've been putting off, like a crown or filling, taken care of before 2021. Doing so can keep your smile beautiful and healthy while also saving you money!
About the Author
Dr. Patrick Crowley is a dentist in Oklahoma City who graduated from the University of Oklahoma College of Dentistry. He never wants a patient's financial troubles to get in the way of receiving the dental care they need, which is why his practice is in-network with many popular insurance plans, including Delta Dental and Cigna. For questions on how to maximize your benefits before the end of 2020, visit his website or call his office at (405) 751-5515.
Comments Off

on How to Save Money by Using Your Dental Insurance Benefits Before 2021
No Comments
No comments yet.
RSS feed for comments on this post.
Sorry, the comment form is closed at this time.