August 3, 2020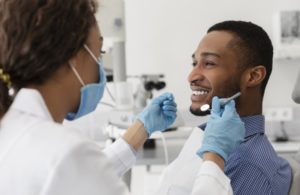 Whether it's due to normal dental anxiety or worry that the dentist's office isn't clean enough to prevent infection, there are a lot of reasons why people have been putting off their routine dental checkups lately. However, these biannual appointments play an important role in ensuring excellent oral and general health, both of which are crucial considering we're in the midst of a pandemic. If you've been thinking about postponing your checkup, your dentist has four reasons why you should reconsider.
Give Your Teeth Some Post-Quarantine Care
With a large portion of the American workforce doing their jobs from home these days, many people are eating more often than they did before, as the kitchen is just a short walk away. However, frequent snacking can seriously damage your smile. A dental cleaning is a great way to conceal unwanted stains, correct chips, and treat potentially painful cavities.
Your Dentist Can Detect Non-Dental Health Issues
Although routine checkups primarily serve as a way to spot warning signs of tooth decay and gum disease, they do a lot more than just that. Believe it or not, 90 percent of health concerns display symptoms in the mouth, allowing your dentist to diagnose them early on. To ensure you have excellent overall health, your dentist will check for signs of conditions like diabetes, osteoporosis, and HIV.
Good Oral Health Keeps Your Whole Body Healthier
Regular cleanings remove plaque and tartar that have accumulated in your mouth. Skipping out on cleanings gives them ample time to contribute to oral infections. When your immune system is busy fighting an infection in your mouth, it can't focus on combatting illness elsewhere in the body. This increases the risk of serious complications if you were to catch Covid-19. For this reason, teeth cleanings can greatly benefit your general health.
Dentists Are Experts in Infection Control
Dental offices were incredibly safe before the pandemic. If anything, they've only gotten better at minimizing the risk of infection in the past few months. Your dentist has implemented many additional safety protocols to set your mind at ease, such as:
Having patients wait in their cars instead of the reception area
Asking patients to use hand sanitizer and an antimicrobial mouth rinse when they enter the practice
Pre-screening the health of every patient and team member
Increasing how often the office's common areas are disinfected
While it can be tempting to put off your routine checkup until later, it can do more harm than good. These visits are crucial in making sure that your oral and overall health remain in good condition for years to come.
About the Author
Dr. Patrick Crowley is a dentist in Oklahoma City who graduated from the University of Oklahoma College of Dentistry. He takes pride in ensuring the health and safety of all of his patients, especially during these difficult times. His practice follows all of the safety guidelines recommended by the CDC, the ADA, and OSHA. To learn more about why you shouldn't be worried about seeing your dentist, visit Dr. Crowley's website or call (405) 751-5515.
Comments Off

on 4 Reasons Why You Shouldn't Skip Your Regular Dental Checkups During Covid-19
No Comments
No comments yet.
RSS feed for comments on this post.
Sorry, the comment form is closed at this time.