June 25, 2020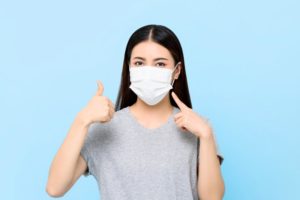 As someone with diabetes, you've been told you're at a high risk for serious complications if you contract COVID-19. For this reason, you've been avoiding going out as much as possible. One day your dentist calls and reminds you that it's time for your biannual checkup and cleaning. At first, you start to panic. Is it even safe to go to the dentist? Yes! Rest assured that your dentist takes your safety and comfort into account when planning for your appointment. Here are a few of the precautions your dental team is taking to alleviate your worries.
Curbside Check-In
No longer will you sit in the waiting room until your appointment begins. Instead, you'll call the office when you arrive and wait in your car. When the dentist is ready to see you, a member of their team will either call you or come to the front door and wave you in. Try not to arrive too early for your appointment.
Patient Pre-Screening
A member of your dentist's staff will ask you a few quick questions when you get to the office, such as whether you currently have any COVID-19 symptoms or whether you've recently been in close contact with someone who does. Your temperature will be taken with a no-touch thermometer. If your health is unsatisfactory, you may be asked to reschedule any elective procedures until you're feeling better.
Pre-Appointment Sanitization
Before your appointment properly starts, you'll be asked to thoroughly sanitize your hands to prevent outside germs from entering the office. Additionally, your dentist will provide you with an antimicrobial rinse to swish around in your mouth for 60 seconds. Doing so should kill pathogens in your mouth that could otherwise infect the dental team while they're treating you.
Social Distancing in Place
Your dentist will ask that only the person being treated enter the office. Exceptions might be made for caretakers of certain patients, but in most cases, other family members or guests will be asked to wait in their car for the duration of the appointment. This practice will minimize the number of people in the office at the same time, dramatically decreasing the risk of infection.
Even if you have a preexisting medical condition like diabetes that increases your risk of COVID-19 complications, you should be able to get the dental treatment you need without any worries. Your dentist and their team are working tirelessly to ensure your safety and comfort while you're under their care.
About the Author
Dr. Patrick Crowley is a dentist in Oklahoma City and a graduate of the University of Oklahoma College of Dentistry. He possessed expertise in a wide variety of areas of dentistry, such as placing and restoring dental implants, cosmetic dentistry, and complex reconstructive cases. His practice takes every precaution they can to ensure your comfort and safety while you're in their office. To learn more about how Dr. Crowley and his team will keep you safe, visit his website or call (405) 751-5515.
Comments Off

on Why It's 100% Safe to Visit Your Dentist During COVID-19
No Comments
No comments yet.
RSS feed for comments on this post.
Sorry, the comment form is closed at this time.