June 25, 2019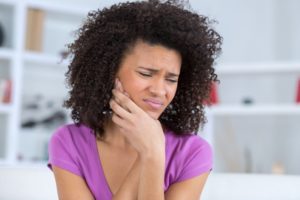 Do you have a sore on your mouth or lip that just won't go away? Do you have trouble swallowing? Do you have a weird red or white patch on your mouth or lips? These are all signs of early-stage oral cancer. As frightening as that may sound, oral cancer usually isn't a death sentence. The most important way to treat it is to get an early diagnosis from your dentist in OKC. Keep reading to learn more about oral cancer and what you can do to prevent it.
How Can Oral Cancer Develop?
Oral cancer begins when cells in the mouth or on the lips develop mutations in their DNA. These mutations tell the cells to continue growing whereas healthy cells would die. It's not clear what exactly causes those cell mutations, but they can lead to dangerous problems if left untreated.
What Are the Dangers of Oral Cancer?
According to the National Cancer Institute, 60 percent of all people with oral cancer will survive for 5 years or more. The earlier the diagnosis, the higher chance of survival. For stage 1 and 2 oral cancers, where the tumor has not spread to the lymph nodes or other parts of the body, 70 to 90 percent of people survive. Early diagnosis is the best way to ensure that the cancer does not spread and become fatal.
What Are the Symptoms of Oral Cancer?
If you experience any of these symptoms for a prolonged period of time, contact your dentist immediately:
A sore on your lip or mouth that won't heal
Pain or difficulty swallowing
Bleeding from your mouth
Loose teeth
A lump in your neck
Earache that won't subside
Sore throat
Jaw pain or stiffness
Tongue pain
Dramatic weight loss
Some of these symptoms may be indicative of other diseases. However, it never hurts to visit your dentist so they can conduct a full examination of your mouth to rule out oral cancer.
How Can I Prevent Oral Cancer?
There is no surefire way to prevent mouth cancer, but there are a few things you can do to lower your risk:
Don't use tobacco products. Smoking or chewing tobacco exposes your mouth to many different carcinogens, or cancer-causing chemicals.
Limit alcohol consumption. Frequent and excessive alcohol use can irritate the cells in your mouth and make them more vulnerable to oral cancer. If you choose to drink, do so in moderation. Try to not have more than two drinks a day.
Protect your lips from the sun. Stay in the shade as much as possible to protect your lips from sun damage. If you're going to be spending time in the sun, wear a hat with a broad brim that shades your entire face, including your mouth. In addition, wear a sunscreen lip balm.
Visit your dentist at least twice a year. At your next checkup, ask your dentist to inspect your entire mouth for areas that look abnormal and may be a sign of cancer.
If all of this sounds scary, it's because it easily can be. However, prevention and early diagnosis is the best treatment. Make sure to see your dentist regularly to nip oral cancer in the bud!
About the Author
Dr. Patrick Crowley received his Doctor of Dental Surgery degree from the University of Oklahoma College of Dentistry. He knew that he wanted to stay in his hometown of Oklahoma City to practice dentistry. He frequently takes continuing education courses to offer the most cutting-edge dental care that he can to his patients. His office is equipped with the latest dental technology which can help diagnose early stages of oral cancer. To learn more click here or call (405)-751-5515.
Comments Off

on Dentist in OKC Answers 4 Questions About Oral Cancer
No Comments
No comments yet.
RSS feed for comments on this post.
Sorry, the comment form is closed at this time.