March 1, 2019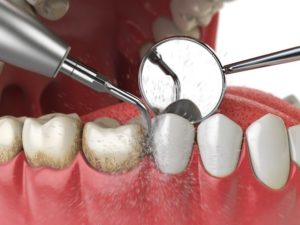 Besides your teeth, your gums are vital to a healthy smile. They provide your teeth with the support they need to stay in place while sealing out bacteria from your oral structures. Unfortunately, the biggest threat to the health of your gums is an infection that affects roughly 50% of adults. Gum (periodontal) disease results from an infection caused by tartar accumulations. Over time, it destroys the supporting structures for your teeth, leading to tooth loss. It can also enter your bloodstream, causing an array of general health concerns. Gum therapy is necessary to stop the spread of the infection. Often, your dentist recommends scaling and root planing to save your smile.
Why Do I Need to Treat Gum Disease?
Gum disease results from bacteria found in plaque and tartar accumulations near the gum line. In its earliest stages, it causes the gingival tissue to appear red, swollen, and bleed. Over time, the bacteria destroy the supporting structures for your teeth, causing them to become loose and fall out. The bacteria can also enter your bloodstream through regular chewing. As it circulates throughout your body, it increases your risk of cardiovascular disease, respiratory infections, diabetic complications, and Alzheimer's disease.
It is best to treat gum disease at the first sign of the infections to prevent any long-term complications for your mouth or body. The first step to restoring a healthy smile involves a treatment called scaling and root planing.
Scaling and Root Planing
Scaling and root planing are also known as a deep cleaning. Although it is often thought to only be one treatment, it actually involves two separate procedures. During the scaling process, special dental tools are used to remove tartar and bacteria from below the gum line. After the gingival pockets are cleaned, another dental instrument is used for the root planing. This involves smoothing the root surfaces of your teeth to prevent future buildup while also allowing your gums to reattach to your teeth.
Your dentist may use a local anesthetic to minimize any tooth sensitivity or discomfort during the treatment. In some cases, it may take more than one appointment to treat your entire mouth. Your dentist may recommend more frequent cleanings as part of your periodontal therapy. With the right care from your dentist and the proper oral hygiene habits at home, you can stop the spread of the infection to restore a healthy smile.
Stop Gum Disease Today!
Do not wait until it is too late to save your smile from gum disease. Get the treatment you need with scaling and root planing.
About Dr. Patrick Crowley
Dr. Patrick Crowley received his dental degree and completed an AEGD residency program while also continuing his education in many specialty services. He provides individualized solutions to protect and restore the health of your teeth and gums. If you have periodontal disease, he has the treatments you need. Contact our office today to schedule your consultation for gum disease therapy.
Comments Off

on Do I Need Scaling and Root Planing for Gum Therapy?
No Comments
No comments yet.
RSS feed for comments on this post.
Sorry, the comment form is closed at this time.