February 24, 2019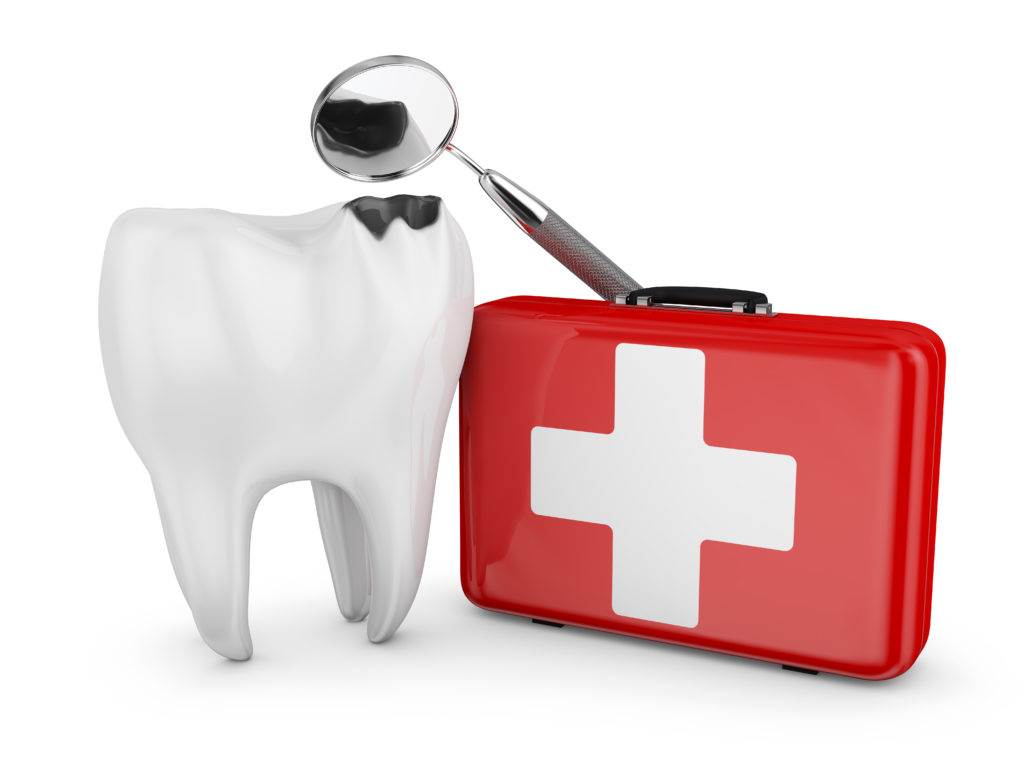 Unfortunately, dental emergencies can strike anywhere, anytime. And no matter the situation, an unexpected trip to the dentist is the last thing most people want to do! But it's helpful to remember that, first and foremost, an emergency dentist will get you out of pain. They'll also create a plan for any treatment that's needed to restore your smile so you have great oral health moving forward. Keep reading more to find out what an emergency visit will include and what kind of treatment options you may have.
What Happens At an Emergency Visit?
After you've discussed your symptoms with an emergency dentist, your visit will likely include the following:
A visual exam – A dentist will begin by visually inspecting your teeth and gums to get an overall idea of what's happened and how to proceed.
X-rays – X-rays allow a dentist to see what they can't see with the naked eye alone. These images tell them what's happening around the roots and nerves of your teeth as well as in the jawbone.
Photographs – A dentist may use a small intraoral camera to take up-close photographs of your teeth. This is a great way to document any damage that's occurred and help you better understand your treatment recommendations.
Discussion of treatment options – Finally, using all the information they've gathered during their exam, a dentist will discuss their diagnosis and recommendations for treatment.
Prescription for antibiotics if an infection is present – If you have a toothache and/or swelling, you may have an infection. This can spread to other areas of the body and become very dangerous if it's not addressed immediately, so a dentist will typically prescribe antibiotics right away before treating the tooth itself.
What Kind of Treatment Will You Need?
Every situation is unique, so your treatment will depend on the cause and severity of your emergency. Here are some possibilities for several common emergencies:
Toothache – After an infection has either been ruled out or treated with antibiotics, a toothache is often treated with a filling, dental crown. If the nerve of the tooth is damaged, a root canal may be necessary to save the tooth.
Knocked-out tooth – For a knocked-out tooth, it's important that you're seen within an hour or so, and that you handle the tooth correctly (only touching the crown, not the root, gently rinsing the tooth off, and either putting it back in its socket or in a glass of water or milk). If the tooth can be saved, a dentist will do so. If not, they'll clean the area and stop any bleeding. After you've healed you can return to discuss replacement options.
Broken tooth or filling – If you break or chip a tooth, a dentist can usually repair it with either a filling or dental crown. If the break involves the nerve, a root canal may also be recommended. Severely broken teeth may need to be extracted.
In any emergency, the goal is to stabilize you as soon as possible and also make sure you have a healthy smile in the future. And seeing an emergency dentist is the first step!
About the Author
Dr. Patrick Crowley is a general and emergency dentist who has successfully treated every type of emergency situation. He combines years of experience with a reassuring chairside manner to put even the most frazzled patients at ease. If you're having a dental emergency or have any other questions, he can be reached via his website.
Comments Off

on What Does a Visit To an Emergency Dentist Look Like?
No Comments
No comments yet.
RSS feed for comments on this post.
Sorry, the comment form is closed at this time.