August 17, 2017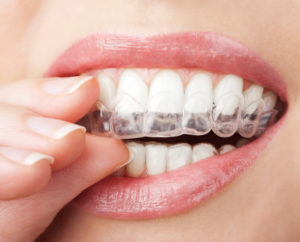 Originally, orthodontic treatment to properly align and space teeth was considered a purely cosmetic service. For years, patients were considered vain for wanting to align their smiles, and dental insurance providers reinforced this idea by severely limiting coverage for orthodontic treatment. Still, the field of orthodontics has prevailed. Research has proven that a smile is not completely healthy unless it's properly aligned. Today, there are numerous orthodontic options available for patients outside of the traditional metal bracket and wire braces. At Bluff Creek Dental, we offer a more cosmetic solution using the Invisalign alignment tray orthodontic system. This system allows teens and adults to correct orthodontic issues without metal mouth, dietary restrictions, or spending hours trying to floss between wires and brackets. If you'd like to get started down the road to your most beautiful smile, call to schedule your orthodontic consultation today.

Top 5 Reasons to Straighten Your Smile
Even if you weren't lucky enough to correct your misaligned teeth as a teen, you should still consider straightening your smile. Some of the many reasons we encourage patients to receive orthodontic care include:
Flawless appearance – straight teeth are cosmetically more appealing than crooked smiles, and this is probably the most common reason patients want to straighten their teeth.
Improved oral health – straighter teeth are less likely to be chipped, cracked, or wear unevenly, meaning healthier teeth that last a lifetime.
Reduced risk for TMJ dysfunction – uneven or misaligned bite can place excess pressure on the TMJ joints that allow for unimpeded jaw movement and lead to TMJ dysfunction.
Easier to clean – teeth that are evenly spaced and properly aligned will be much less difficulty to keep clean and free from plaque and tartar buildup.
Look and feel your best – patients who like the way their smiles look smile more often, feel more confident, and make great first impressions.
Invisalign at Bluff Creek Dental
We want to make dental care affordable for every patient we treat and that includes Invisalign. Right now, patients who sign up for orthodontic treatment with Invisalign may be eligible for a special offer to receive $1000 off their flawless new smiles. There's no better time than today to start down the road to a picture-perfect smile you'll be proud to share. This exceptional value is made all the more appealing because you'll still be receiving outstanding service from one of the most skilled cosmetic dentists in Northwest Oklahoma City.
No Comments »
No comments yet.
RSS feed for comments on this post.
Leave a comment