Single Tooth Dental Implants – Edmond, OK
Replace Individual Missing Teeth from the Roots Up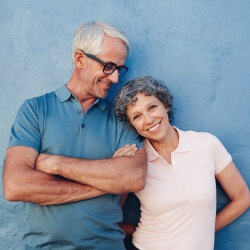 Dental implants offer an excellent solution after tooth loss. Any number of teeth from anywhere in the mouth can be replaced with these tiny titanium posts. In the case of just one missing tooth, Dr. Patrick Crowley will likely recommend single tooth dental implants in Edmond, OK.
Procedure for a Single Tooth Implant
To place just one dental implant, your dentist considers the precise shape and structure of your jaw to determine the best approach. The dental implant is implanted beneath the gum line in a brief oral procedure. Local anesthesia is available for your complete comfort.
After the implant has been placed, it will grow together with the jawbone over a period of three to six months. This fusion between bone and titanium, known as osseointegration, is vital for the success of the dental implant.
Once osseointegration is complete, the dental implant is sturdy and ready for restoration. We will expose the dental implant and place a healing cap on top, which will be the foundation for your new crown. After another brief healing period, usually just a couple of weeks, we will create the restoration and then place it on top of the dental implant -- and you'll soon be able to enjoy your new, improved smile!
Single Tooth vs. Multiple Tooth Implants
The procedure for single tooth dental implant is similar for multiple tooth implants, the difference being in the final restoration. An individual dental implant for every single missing tooth is not needed in cases of multiple tooth loss. A complete denture can sometimes be retained on as few as four dental implants, for example.
Benefits of Single Tooth Implants
You have other options for replacing one missing tooth, but a single tooth implant is the wisest choice because it restores your ability to eat, speak, and smile like nothing else. The other common replacement for a missing tooth, the fixed bridge, requires the two healthy natural teeth surrounding the gap to be filed down. A single tooth dental implant draws support from the jawbone, leaving the rest of the teeth unaffected.
Because a dental implant replaces the tooth's root as well as its crown, it also stabilizes the jawbone and keeps your mouth healthier over time. Without a replacement for the root, minerals will be sent elsewhere and the bone will gradually deteriorate.
A single dental implant can be brushed and flossed just like the rest of your natural teeth, which means it is likely to stay healthier over time.
Cost of a Single Tooth Implant
While implant dentistry comes at a higher cost than other options, for its comprehensive approach and long-lasting results, a dental implant is by far the best investment patients can make after any amount of tooth loss.
The average cost of a single tooth dental implant can range anywhere from $2,000-$5,000. Your results may vary based on initial preparatory procedures or consultations.
Learn More Today!
Are you in need of a single tooth replacement? Talk to the team at Bluff Creek Dentistry to find out which option is best for you. Contact us to schedule an appointment today!