Implant Crown and Bridge – Oklahoma City, OK
Stabilize Your Bridge with Dental Implants
Your teeth impact your life in more areas than just your ability to chew your favorite foods to maintain a balanced diet. They also affect your quality of life, oral and general health, and your self-esteem. Losing even a single tooth can create significant consequences in all areas. If you have lost one or more teeth, you don't need to live with the results of an incomplete smile. You can replace them with dental implants. As an alternative to a traditional bridge and crown, partial, or denture, we'll help you enjoy the next best thing to your real teeth with implant-supported prosthetics.
How Do Dental Implants Work?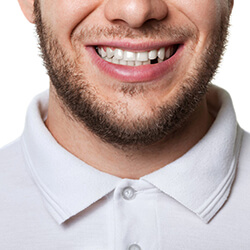 Traditional dental prosthetics only replace the portion of your missing teeth visible above the gum line. Although they are effective, they will also always have their limitations. Dental implants closely replicate your natural smile because they go a step further to replace the entire tooth structure, including the root.
A titanium implant post is surgically placed into your jawbone to act as a new root. Your jawbone will fuse to the post to provide a stable foundation for your restoration, which is attached to the implant using an abutment. The number of posts and abutments required varies depending on how many teeth you're treating.
Two or More Consecutive Missing Teeth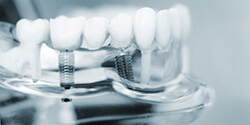 A traditional fixed bridge typically treats 1 or more missing teeth in a row. All-ceramic material is used to create a bridge to fill the empty spaces. The adjacent teeth are reshaped to bond dental crowns over them to support the bridge. Instead of altering healthy teeth, 1-2 dental implants can stabilize the bridge at either end. This helps to preserve your natural teeth to ensure your smile lasts for a lifetime.
Several Missing Teeth Throughout an Arch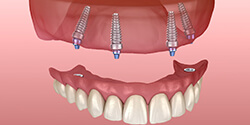 A partial denture is a conventional treatment to restore several lost teeth throughout an arch. Prosthetics are attached to a gum-colored base with a metal framework. It relies on the support of your natural teeth. A combination of single unit implants and implant-retained bridges can be used as an alternative. If you've lost all your natural teeth, you can support your denture without a messy adhesive. 4-10 dental implants can anchor your denture to your jawbone.
Benefits of Implant-Supported Prosthetics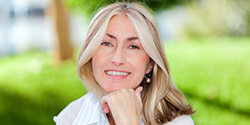 The process of rebuilding your smile will take longer with dental implants, but it is time well-spent to enjoy a solution that can last for a lifetime, as well as several other benefits, including:
Over a 95% success rate
Looks and feels natural
Preserves your jawbone
Doesn't rely on healthy teeth for support
Doesn't alter healthy teeth
Stops dental drift
Improves your oral health
Eliminates slipping and irritation
Easy maintenance and care
Long-term, cost-effective solution
Schedule an Appointment Today
If you're ready to invest in a close replica of your natural teeth, it's time to see if dental implants are right for you. We'll help you find the solution you need to replace your missing teeth to boost your confidence and your quality of life.