Dental Crowns & Bridges – Edmond, OK
Renew Oral Health & Achieve Optimal Dental Function
If you've experienced dental damage or tooth decay, the Edmond OK dentist and team at Bluff Creek Dental are here to help you repair your smile. While our dental office focus is prevention, we also offer a wide range of restorative dentistry services, including dental crowns and fixed bridges to deliver healthy, beautiful smiles. When you're ready to work with our team to repair your smile's form and function, give our dental office a call for dental crowns and bridges in Edmond, OK. We look forward to helping you achieve your optimal level of oral health.
Dental Crowns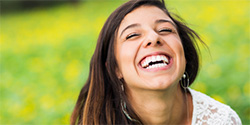 Dental crowns are prosthetics that fit over the top of a damaged tooth, like a crown on the top of your head. Dental crowns in Edmond replace lost tooth structure and repair your damaged smile. These advanced restorations can be crafted from a variety of materials, including metals, porcelain fused to metal, ceramic, and zirconia.
Indications for Dental Crowns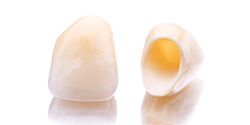 We will recommend a dental crown to repair damaged smiles in all of the following situations:
Dental decay or damage too extensive to repair with more conservative treatments like tooth-colored fillings.
To protect a root canal treated tooth from further damage.
To enhance the smile's cosmetic appearance a tooth-colored dental crown may be used as part of a smile makeover plan.
To replace a lost filling, inlay, or onlay, a dental crown may be placed over the damaged tooth.
Dental crowns are used to replace missing teeth when attached to a dental implant post or as part of fixed bridge restoration.
Fixed Bridges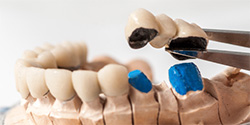 A fixed bridge tooth replacement prosthetic is composed of three main pieces. The replacement tooth or teeth and two dental crowns attached to both sides of the prosthetic teeth. In order to bridge the gap in your smile, the dental crowns need to be cemented into place over the top of two healthy teeth on either side of the lost teeth. This seamlessly recreates your lost dental structures.
The Dental Restoration Process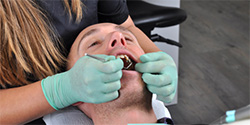 Dental crown and fixed bridge restoration processes are completed over the course of two trips to our dental office. During your first appointment, we prepare your teeth. Then, we capture bite impressions that are used by the lab to create your dental crown or fixed bridge in Piedmont. To protect your smile between visits, we will place a temporary restoration. When we receive your final prosthetic from the lab, you'll come back to see us for the second visit. We'll remove the temporary and exchange it for your final crown or bridge, delivering a gorgeous smile.