May 29, 2020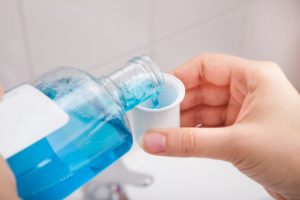 Dental offices across the nation have been closed (essentially only seeing patients with dental emergencies) for the last couple of months due to COVID-19. Now, practices are starting to gradually open back up for regular procedures like cleanings and fillings. If you have been to one of these appointments, you might notice that your dentist is starting to do things a little differently than they used to. One of these new protocols involves rinsing with an antimicrobial rinse, such as mouthwash or hydrogen peroxide and water, before your appointment begins. Why is your dentist having you do this? Keep reading to find out.
Why Is Your Dentist Asking You to Rinse?
The main purpose of asking you to rinse prior to your appointment is to rid your mouth of as many microbes as possible. While most common mouthwashes have not been tested against the specific germs that cause the novel coronavirus, they have been proven to be effective against germs that cause plaque, gum disease, and bad breath.
Your dentist and their team use many of the same tools from patient to patient. Although they are heavily disinfected between appointments, it never hurts to take a little extra care to minimize the risk of germs being transferred from patient to patient, or from patient to dentist. For this reason, rinsing can help sterilize your mouth.
How Else Is Your Dentist Keeping Their Office Germ-Free?
Rest assured that your dentist is taking several additional precautions to help prevent the spread of the coronavirus. Some of these precautions include:
Performing daily health checks of every staff member
Having patients wait in their cars instead of the waiting room until the dentist is ready to see them
Providing hand sanitizer for patients before their appointments
Asking that only the patient being treated enter the office, while all others who came with them are asked to wait in the car
Increasing how often the common areas of the office are cleaned
Purchasing medical-grade air purifiers to use in the office
As you can see, it can't hurt to rinse with mouthwash or a hydrogen peroxide solution before the start of your appointment. Reducing the number of microbes in your mouth is always helpful, whether or not a global pandemic is happening. If you were apprehensive about visiting your dentist for fear of their not being safe enough, you can rest easy knowing that they follow strict health and safety protocols. Go ahead and schedule your next checkup as soon as you can.
About the Author
Dr. Patrick Crowley is a dentist in Oklahoma City who earned his Doctor of Dental Surgery degree from the University of Oklahoma College of Dentistry. He is a member of the American Dental Association, the Oklahoma Dental Association, and the Academy of General Dentistry. Your safety is his practice's top priority, which is why they follow all the protocols listed above and more. To learn more about how they'll keep you safe during your appointment, visit Dr. Crowley's website or call them at (405) 751-5515.
Comments Off

on Why Is Your Dentist Asking You to Rinse Before Your Appointment?
No Comments
No comments yet.
RSS feed for comments on this post.
Sorry, the comment form is closed at this time.